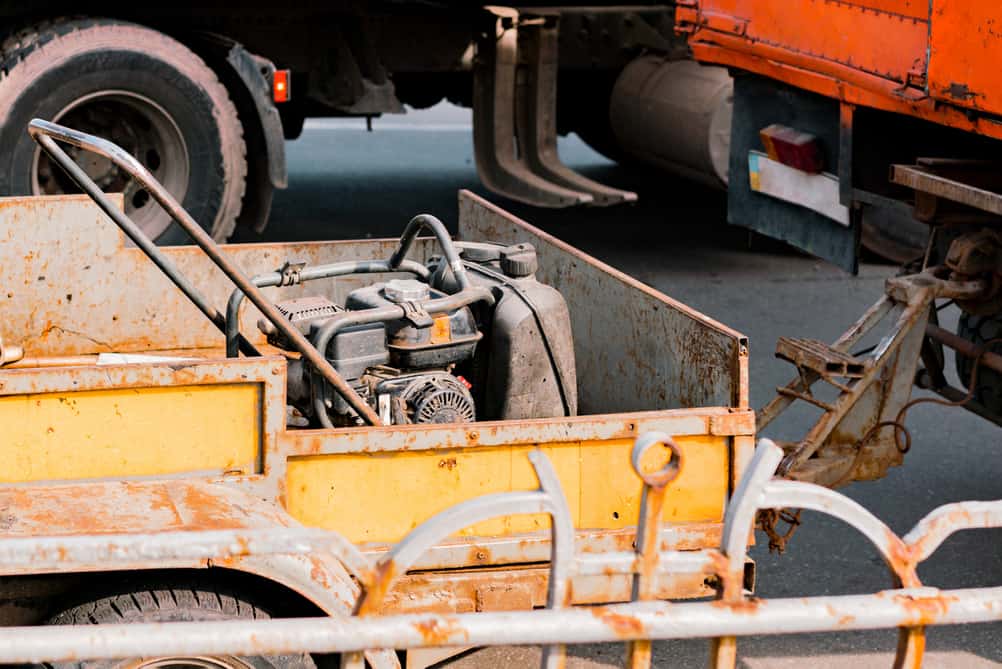 With the increase in power outages and unpredictable weather events, portable generators have become a lifesaver for many households. However, improper usage of these handy devices can lead to serious hazards such as carbon monoxide poisoning, electrocution, and fire.
Thus, it's crucial to be well-informed about generator safety tips and guidelines before using one. In this blog post, we'll discuss essential safety measures that every portable generator user should follow to ensure protection for themselves and their families while enjoying the benefits of an uninterrupted power supply.
Key Takeaways
Proper placement and ventilation are crucial for safe generator usage to prevent carbon monoxide poisoning.
Using grounded outlets and cords can prevent electric shocks or electrocution while operating a portable generator.
Regular maintenance, fueling, and proper generator storage can ensure efficient operation when needed.
Educating family and friends on safety precautions, like determining wattage needs and limiting usage during wet conditions or storms, is important to keep everyone safe.
Essential Portable Generator Safety Tips
Proper placement and ventilation are crucial for safe generator usage, as you should always operate a generator outside at least 20 feet from doors and windows to prevent carbon monoxide buildup.
Proper Placement And Ventilation
Proper placement and ventilation are essential aspects of portable generator safety. Proper positioning helps prevent the dangerous buildup of carbon monoxide (CO), a deadly, odorless gas produced by engine exhaust.
To avoid CO poisoning, always operate your generator outdoors and place it at least 20 feet away from open doors and windows.
For optimal performance and safety, choose a level surface for your portable generator that isn't prone to flooding or creating puddles during wet conditions. Moreover, investing in ventilated tents specifically designed for generators can be beneficial as these protect against harsh weather conditions while maintaining adequate airflow around the device.
Use Of Grounded Outlets And Cords
Using grounded outlets and cords while operating a portable generator is essential for maintaining safety and preventing electrical hazards. Grounded outlets protect against potential electric shocks or electrocution by directing excess current safely into the ground instead of through your appliances or body.
Furthermore, examine your cords regularly for any signs of wear or damage that might compromise their ability to conduct electricity safely. To avoid accidents, replace frayed, cracked, or otherwise damaged extension cords promptly.
When selecting an extension cord for your generator use, choose one that is rated for the wattage requirements of your appliances and has sufficient length to keep the generator at least 20 feet away from doors and windows.
This precaution helps minimize noise and reduces the risk of carbon monoxide poisoning caused by exhaust fumes entering living spaces.
Regular Maintenance And Fueling
Regular maintenance is crucial to ensure your portable generator's safe and efficient operation. This includes checking and replacing oil, spark plugs, and air filters according to the manufacturer's recommendations.
Keep the area around your generator clean and free from debris, which can cause overheating or other malfunctions.
Fueling a portable generator requires special attention as well. Always fuel your generator with fresh gasoline from an approved container and never add gas while it's running or still hot – let it cool down completely first to avoid burns or fire hazards caused by spilled fuel on a hot engine.
Furthermore, store gasoline in a well-ventilated area away from open doors and windows that may allow fumes to enter living spaces, increasing the risk of carbon monoxide poisoning.
Safe Storage
Proper storage of your portable generator is an important aspect of its safety. When not in use, generators should be stored in a cool and dry place that is easily accessible for maintenance purposes.
Cover the generator to protect it from dust and debris.
Obviously, you must turn off the generator before storing it, but you must also ensure that it has completely cooled down before covering it up or putting it away. Failure to do so can result in hot engine parts igniting the cover or surrounding objects due to residual heat.
Having problems? Learn how to troubleshoot your portable generator and how to fix a generator that won't start.
Guidelines For Safe Generator Usage
Determine Wattage Needs
Before using a portable generator, it's important to determine your wattage needs. This can help you choose the right size and power output.
Start by making a list of all the appliances and devices that you plan to run with the generator. Then, check each one for its starting watts and running watts requirements.
For example, a refrigerator typically requires about 1200 starting and 200 running watts, while a television may only need 150 starting and 75 running watts.
It's essential not to overload the generator as this can damage the appliance/device being powered and the generator itself.
Limit Usage During Storms Or Wet Weather
Using a portable generator during a storm or wet weather can be dangerous and increase the risk of electrocution. Wet conditions can make properly grounding the generator difficult, leading to electric shock hazards.
To stay safe when using a generator during storms or wet weather, it's important to limit usage as much as possible. Only use the generator when necessary, and never operate it in standing water or other damp areas.
Ensure that all cords and electrical connections are protected from moisture and always follow manufacturer guidelines for proper installation.
Educate Family/friends On Safety Precautions
It's important to be aware of generator safety guidelines yourself and educate those around you. Here are some key safety precautions to share with family and friends:
Never run a generator inside any enclosed area, including homes, garages, or basements.
Keep generators at least 20 feet from doors, windows, and vents to prevent carbon monoxide from entering the home.
Make sure everyone knows how to properly connect appliances and devices to the generator using grounded extension cords to prevent electrocution.
Teach others how to determine the electrical load of their devices so they can avoid overloading the generator and causing damage or fire hazards.
Let everyone know that generators should be turned off before refueling and that gasoline should never be stored inside your home.
Warn against back-feeding power into a household circuit, as it can injure or kill utility workers attempting to repair power lines.
By sharing these tips with family and friends, everyone can work together to safely use portable generators during power outages or other situations where backup power is needed.
Proper Generator Wiring
It is important to ensure proper wiring when using a generator. If you are not familiar with how to connect your generator, it is best to hire a licensed electrician for installation.
Ensure that the wiring setup accommodates the electrical load of the appliances being powered so as not to overload the system. Always use appropriately sized extension cords that can handle enough wattage for the devices connected.
It is also essential to protect yourself from electrocution by ensuring that you do not touch both ends of an active circuit or even water while operating a generator.
Conclusiond
Using a portable generator can be a great way of ensuring you have power in case of an emergency, when out camping, or having an outdoor event. However, it is essential to prioritize safety when operating one.
From properly positioning the generator outside to making sure you never back-feed household circuits, following the safety tips and guidelines discussed above will go a long way in keeping yourself and others safe.
Always keep doors and windows open when running your generator to prevent carbon monoxide buildup, turn it off before refueling, and limit usage during wet conditions.
Sale
Bestseller No. 1
Jackery Portable Power Station Explorer 300, 293Wh Backup Lithium Battery, 110V/300W Pure Sine Wave AC Outlet, Solar Generator (Solar Panel Not Included) for Outdoors Camping Travel Hunting Blackout
SPEED UP YOUR RECHARGEABILITY: It takes only 2 hours to recharge 80% battery of the power station through the wall outlet and 60W PD USB-C port simultaneously. You can also recharge your power station with an AC adapator when at home, through the car outlet during a road trip or simply use a Jackery SolarSaga 100.
SAFE & STEADY POWER SUPPLY: Armed with a 293Wh lithium-ion battery pack, the Explorer 300 features 2 Pure Sine Wave AC outlets that deliver stable and safe 300W power. The portable power station weighs only 7.1 pounds. You can simply rest assured in outdoor off-grid activities.
POWER YOUR EXPECTATIONS: Featuring 2* AC outlet, 1* PD 60W USB-C port (input/output supported) , 1* fast charge 3.0 port, 1*USB-A port and 1* DC car port, the power station can recharge itself and charge (up to) 6 devices (e.g.Drones, Macbook, Cameras, etc.) at the same time to satisfy your outdoor needs.
GREEN POWER SUPPLY: The power station is compatible with the Jackery SolarSaga 100 solar panel. The integrated MPPT controller enables the solar generator set to operate at its max power point, so that it speeds up the battery recharge, making them ideal portable power kits for tent camping, overland journey and etc.
WHAT YOU GET: 1* Jackery Explorer 300 Portable Power Station , 1*AC adapter, 1* car charger cable, 1* user guide
Sale
Bestseller No. 2
Westinghouse Outdoor Power Equipment 12500 Peak Watt Tri-Fuel Home Backup Portable Generator, Remote Electric Start, Transfer Switch Ready, Gas, Propane, and Natural Gas Powered, CARB Compliant,Blue
12500 Peak Watts, 9500 Running Watts (Gasoline); 11200 Peak Watts, 8500 Running Watts (Propane); 9500 Peak Watts, 7500 Running Watts (Natural Gas); Remote Start With Included Key Fob, Electric and Recoil Start; Up to 12 Hours of Run Time on a 6. 6 Gallon Fuel Tank With Fuel Gauge.Rated Speed (RPM) : 3600. THD : ≤ 23%
Features Two GFCI 120V 5–20R Standard Household Receptacle, One Transfer Switch Ready 120V L14-30R, and One RV Ready 120/240V 14–50R; All Outlets Have Rubber Covers for Added Safety
Powered by a Heavy Duty 457cc Westinghouse 4-Stroke OHV Engine Featuring a Long-Lasting Cast Iron Sleeve With Automatic Low Oil and Carbon Monoxide (CO) Shutdown, and Digital Hour Meter
Plug-and-Play: Comes With a Remote Start Key Fob, 12V Battery Charger, Oil, and Oil Funnel, a Tool Kit, and a User's Manual to Get You Started Right Out of the Box (Minimal Assembly Required)
All Westinghouse Portable Generators are Functionally Tested in the Factory and May Contain Minimum Residual Oil and/or Fuel smell; EPA and CARB Compliant; Backed By 3-Year Limited Service, Labor, and Parts Coverage and Nationwide Customer Service Network
Bestseller No. 3
GENMAX Portable Inverter Generator,1200W Ultra-Quiet Gas Engine, EPA Compliant, Eco-Mode Feature, Ultra Lightweight for Backup Home Use & Camping (GM1200i)
【Powerful Engine and Safe For Sensitive electronics 】The GENMAX 1200 Starting Watts Inverter Generator is powered by a 57cc 4- stroke OHV gas engine,with inverter technology produce 1200 Starting Watts/ 1000 Running Watts clean power (less than 3% THD), confidently connect your sensitive electronics such as TV, lights, fans, small power tools and more on camping trips, etc.
Bestseller No. 4
WEN DF475T Dual Fuel 120V/240V Portable Generator with Electric Start Transfer Switch Ready, 4750-Watt, CARB Compliant
Switch between gasoline (4750 surge watts, 3800 running watt) and propane (4350 surge, 3500 running) with the simple turn of the selection dial
Voltage easily goes from 120V to 240V, perfect for transfer switches and emergency backup
Electric start powers the 224cc 4-stroke OHV engine with the turn of a key
4-gallon tank provides up to 11 hours of half load run time
Includes two 120V GFCI outlets (5-20R), a 120V/240V NEMA 30A twist lock (L14-30R), a 12V DC cigarette-lighter-style plug, a bottle of oil, a wheel and handle kit, a 47-inch LPG connection hose, and a 2-year warranty