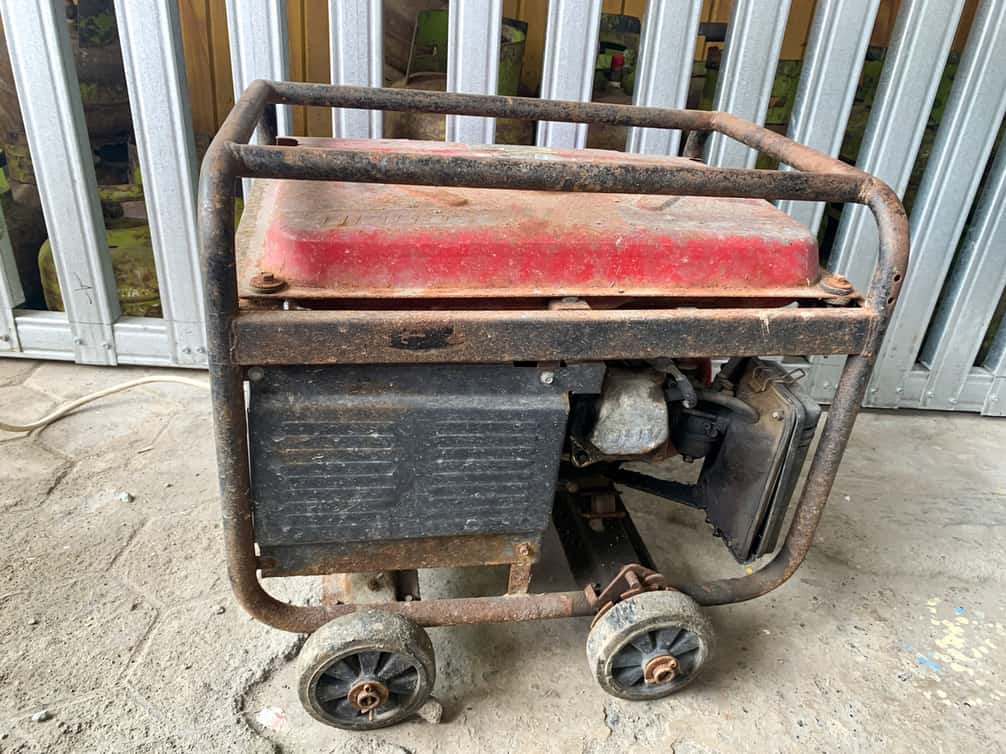 Portable generators are essential for providing backup power during outages or increasing convenience at outdoor events, but what happens when your reliable generator starts acting up? With our Portable Generator Troubleshooting Guide, we'll dive into common issues like difficulty starting, low power output, and overheating.
We'll also offer insightful tips on diagnosing and fixing these problems to get your generator back to peak performance.
Key Takeaways
Common issues with portable generators include difficulty starting, low power output, poor fuel efficiency, and overheating.
To troubleshoot these problems, check the fuel and oil levels, inspect the spark plug and air filter, test the battery and charging system, and clean the carburetor and fuel lines.
Regular maintenance tasks such as periodic cleaning of filters and replacing worn-out parts can prevent potential issues with portable generators. In addition to maintaining proper fuel and oil levels in your generator.
Common Issues With Portable Generators
Difficulty Starting
One frequent issue portable generator users face is difficulty starting the device. Several factors can contribute to this problem, such as low oil levels, insufficient fuel, faulty spark plugs or ignition coils, and improper choke lever or fuel valve positioning.
To troubleshoot and resolve starting difficulties for your portable generator, check the oil level using a dipstick and ensure there is an adequate amount of gasoline or diesel fuel in the tank.
If these levels are satisfactory, but issues persist, clean or replace any clogged air filters that may be restricting airflow into the engine's combustion chamber.
Inspect the spark plug for wear and corrosion – you might need to replace it if found damaged.
Low Power Output
Low power output is a common issue with portable generators, often leaving users frustrated when they need a reliable energy supply. This problem could be caused by various factors, including clogged fuel lines, a dirty carburetor, or even incorrect voltage settings.
To troubleshoot this issue, check your generator's voltage settings – to ensure it matches the required level for your connected devices. Next, inspect the fuel filter to see if there is any clogging; replacing a clogged air filter will improve combustion and potentially increase power output.
If you're using diesel fuel instead of gasoline or propane in your generator, examine the condition of diesel within your tank, as aged or contaminated diesel may contribute to poor performance.
Remember regular maintenance tasks such as cleaning the carburetor and inspecting spark plugs to keep your portable generator functioning optimally.
Poor Fuel Efficiency
Poor fuel efficiency is another common issue that afflicts portable generators, which can lead to increased costs and reduced performance. There are several possible causes for this problem, including a dirty or clogged air filter, improper fuel mixtures, and issues with the carburetor or fuel lines.
To resolve this issue and improve your generator's fuel efficiency, start by checking the air filter – a clogged air filter restricts airflow to the engine resulting in inefficient combustion and increased fuel consumption.
Additionally, ensure you are using the correct type of fuel as specified in your user manual. Clean or replace the carburetor and examine all hoses connected to it and the fuel tank for any signs of wear or leaks; addressing these can significantly boost your portable generator's overall performance.
Overheating
One common issue with portable generators is overheating. This can happen when the generator is used for a prolonged period or placed in an area without proper ventilation.
Overheating can cause severe damage to your generator, so it's essential to address this problem immediately. To prevent overheating, you should ensure the air intake and exhaust are unobstructed and clear of debris or obstructions.
If your generator continues to overheat despite taking preventive measures, other underlying issues may be at play. It could be due to a clogged fuel line or dirty carburetor limiting fuel flow and causing combustion problems leading up to overheating.
Regular maintenance checks, such as periodic cleaning of filters and replacing worn-out parts, will go a long way in preventing overheating issues with portable generators.
Troubleshooting Tips
To troubleshoot common issues with your portable generator, check the fuel and oil levels, inspect the spark plug and air filter, test the battery and charging system, and clean the carburetor and fuel lines.
Check Fuel And Oil Levels
Before attempting other troubleshooting steps, check the fuel and oil levels in your portable generator. Running a generator with low oil can cause irreversible damage to the engine.
Similarly, running out of gas or having insufficient fuel can prevent the generator from starting altogether.
To check the oil level, locate the dipstick on the top of the engine and remove it. Wipe it clean, reinsert it fully into the dipstick tube, then pull it out again to get an accurate reading.
To check the fuel level, look through the clear window on your generator's gas tank or use a flashlight if necessary.
Regularly checking and maintaining proper fuel and oil levels in your portable generator will minimize potential issues that could lead to costly repairs or replacements.
Inspect Spark Plug And Air Filter
The spark plug and air filter play essential roles in the overall functioning of a portable generator, making it crucial to inspect them regularly. A dirty or clogged air filter can cause starting problems for Champion portable generators, while a fouled spark plug can lead to reduced power output or difficulty in starting.
To inspect the air filter, first locate it on your generator and remove it from its housing. If you notice any dust buildup or debris, clean or replace the filter as needed.
When checking the spark plug, ensure there is no oil buildup on the electrode or around the plug's base.
Test Battery And Charging System
To ensure your portable generator is working correctly, testing the battery and charging system is essential. A faulty battery can cause starting issues or affect power output, while a poor charging system can lead to problems with long-term use.
To check the battery, use a voltmeter or multimeter to measure its voltage when not in use and when operating the generator.
If you suspect an issue with the battery or charging system, follow any manufacturer's instructions for testing and maintenance. This may include inspecting connections and wiring for damage or corrosion, cleaning terminals as needed, or replacing damaged components.
Clean Carburetor And Fuel Lines
Regularly clean the carburetor and fuel lines to ensure your portable generator runs smoothly.
To clean the carburetor, remove it from the generator and disassemble it carefully. Use a small wire brush or compressed air to remove debris or buildup.
For clogged fuel lines, try using a simple solution of water and vinegar to dissolve any blockages gently.
By following these steps regularly as part of your maintenance routine, you can help keep your portable generator running efficiently and avoid potential issues down the road.
Conclusion
Portable generators are essential to any outdoor adventure or power outage contingency plan. However, as with most mechanical equipment, they can be prone to issues.
This troubleshooting guide has covered several common problems you may encounter while using your generator and offers tips on fixing them. By following these simple steps, you should be able to diagnose the issue and get your generator back up and running in no time.
Sale
Bestseller No. 1
NEXPOW Portable Inverter Generator, 2250W Super Quiet Generator with CO Alarm Ideal,Eco-Mode Feature, Parallel Capability,EPA Compliant,and 5v/3A USB Outle,Lightweight For Backup Home Us& Camping
【CO Alarm and Parallel Function】 The NEXPOW portable inverter generator adopts a sensor CO alarm, If used in a confined environment, it reduces the risk of carbon monoxide poisoning for consumers. The generator also features AC parallel operation, allowing you to easily connect two generator units with the same voltage and frequency in parallel to increase power output.
【Eco Mode and EPA Certification】 The NEXPOW portable inverter generator has obtained EPA certification, ensuring safe and reliable use. It also includes an Eco mode feature that extends the runtime. By using the eco switch, the fuel tank can run for more than 10 hours at 25% load.
【Upgraded Configuration】NEXPOW inverter generator is used high-quality copper wire as the core material, which has excellent conductivity and high thermal conductivity,This 2250W portable inverter generator is equipped with 79.7cc 4-stroke OHV single-cylinder engine, a forced air cooling system, and overhead valves. It is also equipped with a muffler, fuel filter, air filter, and more. We have added more configurations than traditional generators, allowing you to use it with greater safety.
【Multipurpose Portable Inverter Generator】It produces 2250W of surge power and 1800W of rated power with an overload protection function. It is easy to run a small house lighting system or other appliances such as a refrigerator. You can rest assured to use it for outdoor living, RV travel, vacation, food trucks, and any situation that requires power.
【Super Quiet Mode】NEXPOW generator is equipped with an advanced muffler and adopts a fully enclosed design mode, which greatly reduces the noise when the product is running. Compared with other traditional generators, NEXPOW Generator is an ultra-quiet mode, at a distance of 23 feet, the decibel level of the product running in ECO mode is 58 decibels, which is almost equal to the sound of normal talking or a dishwasher running, there is virtually no disturbance to the user or anyone nearby.
Bestseller No. 2
Westinghouse Outdoor Power Equipment 12500 Peak Watt Tri-Fuel Home Backup Portable Generator, Remote Electric Start, Transfer Switch Ready, Gas, Propane, and Natural Gas Powered, CARB Compliant,Blue
12500 Peak Watts, 9500 Running Watts (Gasoline); 11200 Peak Watts, 8500 Running Watts (Propane); 9500 Peak Watts, 7500 Running Watts (Natural Gas); Remote Start With Included Key Fob, Electric and Recoil Start; Up to 12 Hours of Run Time on a 6. 6 Gallon Fuel Tank With Fuel Gauge.Rated Speed (RPM) : 3600. THD : ≤ 23%
Features Two GFCI 120V 5–20R Standard Household Receptacle, One Transfer Switch Ready 120V L14-30R, and One RV Ready 120/240V 14–50R; All Outlets Have Rubber Covers for Added Safety
Powered by a Heavy Duty 457cc Westinghouse 4-Stroke OHV Engine Featuring a Long-Lasting Cast Iron Sleeve With Automatic Low Oil and Carbon Monoxide (CO) Shutdown, and Digital Hour Meter
Plug-and-Play: Comes With a Remote Start Key Fob, 12V Battery Charger, Oil, and Oil Funnel, a Tool Kit, and a User's Manual to Get You Started Right Out of the Box (Minimal Assembly Required)
All Westinghouse Portable Generators are Functionally Tested in the Factory and May Contain Minimum Residual Oil and/or Fuel smell; EPA and CARB Compliant; Backed By 3-Year Limited Service, Labor, and Parts Coverage and Nationwide Customer Service Network
Sale
Bestseller No. 3
PowerSmart 2500-Watt Portable Gas Inverter Generator, Super Quiet, High Fuel-Efficient Generator, Lightweight, CARB Compliant PS5025
Compact and Portable: Portable generator weighing just 39 pounds and featuring a compact design (19" L x 13" W x 20" H), this generator is incredibly easy to transport and store. Its built-in handle and small footprint make it a hassle-free companion for your outdoor escapades.
Whisper-Quiet Operation: Our quiet generator equipped with ECO-mode technology, our generator operates at a noise level as low as 56 dBA. Enjoy the serenity of nature without the disruptive noise of traditional generators, making it ideal for camping trips and quiet neighborhood environments.
Versatile Outputs: The gas generator provides a variety of output options to meet your needs. It includes two 120V 15.8amp household outlets for standard appliances, one 12V DC outlet for automotive accessories, and two 5V USB ports for charging your smartphones, tablets, and other gadgets.
Expandable Power: This generator is parallel-capable, allowing you to connect another 2500-watt PowerSmart inverter generator for double the power output (equivalent to a 30amp, 4000W generator). Perfect for RV enthusiasts and those with higher power requirements.
Environmentally Friendly: This generator is EPA certified and CARB compliant, meeting strict emissions standards. You can use it with confidence, knowing you're using an eco-friendly power solution, even in California.
Bestseller No. 4
BILT HARD Generator 2500 Watt, Quiet Inverter Generator Portable 80cc 4 Stroke Engine, 120V AC Duplex Receptacle and 12V DC Output, Outdoor Generators for Home Backup Use and RV Ready
Pure Sine Wave Inverter – Less than 2.5% THD. Covered 120V Max20A 60HZ AC outlets (NEMA 5-20) and 12V Max8.3A DC output are protected by circuit breakers.
Gas Generator – 80cc 4-stroke air-cooled OHV gasoline engine. 1.37 gal fuel tank allows 13 hours run time @25% load. 4800 rpm max engine speed and 9.1:1 compression ratio.
Quiet and Fuel Efficient – As low as 65 dB with double-insulated acoustic enclosure, asymmetrical cooling fans, automatic RPM control and low tone mufflers to reduce operating noise.
2500 Peak Watts and 2000 Running Watts – Perfect for running sensitive electronics like LCD/plasma televisions, laptops, tablets, or mobile devices that require clean, stable power.
Parallel Ready – Connect two inverter generators using a parallel kit (not included) to double your power output.
Portable Generator Troubleshooting FAQ
What are some common reasons why a portable generator might fail to start?
There are several possible reasons why a generator might not start. Common causes include:
– A drained battery
– A clogged fuel filter
– Old or bad fuel
– A dirty carburetor
– A faulty spark plug or ignition coil
– A tripped circuit breaker
Make sure to check each of these possible causes when troubleshooting your generator.
How do I start the generator?
Starting a portable generator is usually a simple process. Locate the fuel shutoff valve and switch it to the on position. Check that there is enough fuel in the tank or add fuel if needed. Turn the choke on if your generator has one, then turn the ignition switch to the on position. Pull the recoil starter cord firmly until the engine starts. Once the engine is running, turn off the choke and let the engine warm up for a few minutes before plugging in or turning on any devices.
What should I do if my generator fails to start?
If your generator fails to start, there are several things you can try. First, check to make sure the fuel shutoff valve is in the on position and that there is enough fuel in the tank. Ensure the spark plug is clean and properly gapped, and the carburetor is clean. If you still need help, consult your generator's owner's manual or contact a qualified repair professional.
Why does my generator shut off before it's supposed to?
There could be several reasons why your generator shuts off prematurely. One possibility is that your generator may be overloaded, meaning you're drawing more power than it can handle. Another possibility is that the oil level sensor is malfunctioning and shutting off the engine as a safety measure. Check your oil level and make sure you're not drawing too much power before starting your generator again.
How do I troubleshoot my inverter generator?
If you have an inverter generator and are experiencing problems, there are a few things you can try. First, check to ensure the fuel shutoff valve is open and enough fuel is in the tank. Next, check the oil level and add oil if needed. Make sure the spark plug is clean and properly gapped and that the carburetor is clear of obstructions.