I recently bought the Duromax xp13000eh dual fuel 13,000-watt portable generator with dual fuel technology to replace my old Coleman portable generator.
It wasn't that my old generator was broken; it wasn't. In fact, my old Coleman 5500 proved extremely reliable, safe, and easy to operate over the 15 or so years I was using it.
The biggest problem with my old generator was that I was trying to save some money when I bought it, so I kept telling myself that 5,500 watts was "good enough" to provide portable ac power for just about anything I wanted to use during a power outage.
Unfortunately, it turns out that "good enough" wasn't good enough, at least when it comes to the size of a portable generator used to power an entire house, especially when we wanted to use our central air during the sweltering summer heat.
Here's my advice…
When buying a portable generator to power your house during a blackout… go big!
However, there's a point of diminishing return on investment when buying a bigger generator. For me, it was when I realized that they were charging more than double the price for a Duromax XP15000EH vs. a Duromax XP13000EH 13,000-watt dual-fuel portable generator. You pay twice as much for the XP1500EH, but you only pick up an extra 2,000 running watts of portable power, which just wasn't worth the extra money to me.
Based on my personal experience with using a 10,000 kW standby generator at our cottage and using a portable generator to provide power to our entire house when the electricity goes out… the 10,500 running watts and 13,000 watts peak that the DuroMax XP13000EH hybrid produces is more than enough power to run my entire home (I have it connected to a Reliance 50 amp power inlet box with a manual transfer switch on the breaker panel).
Tip: You may also want to check out the Duromax XP13000DX and the Duromax XP13000HX. There's also the super flexible Duromax XP13000HXT-Tri-Fuel-Generator.
Dual Fuel Technology
The Duromax XP13000EH 13,000-watt portable generator is a hybrid gas-propane generator, which means it can run on either gasoline or propane, giving you flexibility with your fuel choice. And if you're like me, you probably keep extra gas around the house for your lawn tractor and power equipment, as well as an extra propane tank or two for your grill and patio heaters… so you'll always have extra fuel available (check out our propane vs. gas generator article for more info).
The fuel tank holds up to 8.3 gallons of gasoline and provides up to 8 hours of run time at 50% load with gasoline or 6 hours at 50% load with propane.
Feature-Packed Dual Fuel Hybrid
Plenty Of Power When You Need It- The Duromax xp13000eh features a Duromax 500cc OHV engine and an all-copper winding genset that provides 13,000 watts of surge power and 10,500 watts of running power. That's more than some stationary home standby units I've seen and more than enough to power household essentials or high-amperage power tools on the job site.
Top-notch engine – The Duromax 500cc OHV engine with dual fuel capability is a workhorse that can handle multiple jobs, including using several heavy-duty power tools at the same time.
This dual fuel generator features an easily accessible front fuel switch, making it easy to switch the fuel input between gas or propane quickly.
Propane Inlet on the front panel provides a way to connect your propane tank quickly and provides a regulated LPG (liquid propane gas) fuel supply to the engine.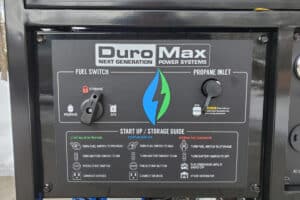 The electric start makes it easy to get going, even if you're unfamiliar with generators. You push a button, and the electric start feature does all the rest (it also has an easy-pull recoil start option).
Quieter By Design – This dual fuel hybrid 13,000-watt portable generator has a noise level of 74 dB from 23 feet away, substantially quieter than my old generator, which had half the power.
The all-metal construction frame is built tough and designed to withstand years of heavy use.
Idle control – A user-selectable idle control switch allows the generator to run at lower RPMs when power is being used intermittently (like on a job site), which helps with reducing noise and saving fuel.
Low oil shutoff – Protects the engine by automatically shutting it down should it run low on oil. But that shouldn't happen if you keep up with your generator maintenance.
The Duromax xp13000eh measures 23.0 inches long by 18.0 inches wide by 22.0 inches high and weighs 236 pounds.
An automatic voltage regulator keeps the power consistent no matter what setting you're using it in.
Fuel Gauge lets you know whether you have a full tank of gasoline or when it's time to refill so you don't run out of power unexpectedly.
A conveniently located battery switch allows you to quickly "disconnect" the battery and helps keep the battery charged during long-term storage.
Emissions standards compliant – All DuroMax generators are certified by the EPA (Environmental Protection Agency) and CARB (California Air Resources Board), demonstrating their commitment to producing environmentally friendly generators.
Fully Loaded Power Panel Features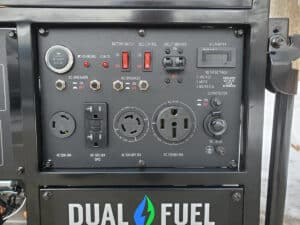 A fully featured power panel includes multiple outlets for maximum compatibility to power both small and large appliances, including:
Two 120V household GFCI outlets (20 amp) to help protect against power surges (you can always add more outlets by using a power strip).
120V 30 Amp 3-prong twist lock (L5-30)
120/240V 30 amp 3-prong twist lock outlet (NEMA 14-30)
120/240v 50 amp 4-prong (NEMA 14-50) heavy-duty outlet (the 240v receptacles are handy for powering high voltage appliances like an oven or a home air conditioner).
Master Circuit Breaker Switch protects the panel from overload and short circuits and allows you to turn on/off power to all outlets at once.
AC Circuit Breakers protect the individual outlets from overload (check out our can a generator get wet article for more info about operating your generator in the rain or snow).
12V DC automotive-style outlet for charging external batteries and powering 12v appliances and chargers.
Push button electric start makes it easy to begin producing power within seconds. Battery included.
Easy-Pull Recoil Start to start the engine without using the electric start.
A battery on/off switch to help keep your battery full-charged during storage.
Multi-Metter Display – Displays voltage, hertz, and running time.
Low Oil Alert light (with its low oil shutdown sensor, the generator will automatically shut off when it needs more oil, preventing damage).
A grounding post.
XP13000EH Specs:
Peak Watts = 13,000 watts gasoline and 12,350 watts propane.
Running Watts = 10,500 watts gasoline and 9,975 watts propane.
Peak Amps @ 120V = 108.33 running on gasoline and 102.92 on propane.
Running Amps @120v = 87.50 gasoline and 83.13 propane.
Peak Amps @240 = 54.17 gasoline and 41.56 propane.
Voltage 120V/240 AC and 12V DC
Frequency 60 Hz
Engine Size: 500 cc
Engine Type: 4-Cycle Air-Cooled (Hybrid Gas Propane)
Start Type: Electric and Recoil
Engine Speed 3600 RPM
Fuel Type: Gasoline or Propane
Gasoline Fuel Tank Capacity: 8.3 gallons (8-hour runtime at 50% load)
Propane Tank Suggested Size: 40lbs (6-hour runtime at 50% load)
EPA and CARB Approved
Product Weight 236 lbs.
Dimensions 29″ L x 30″ W x 26″ H
UPC 811640015725
Dual Fuel Workhorse
The DuroMax XP13000EH is a 13,000-watt portable generator that runs on propane or gasoline.
It is powered by a 500cc engine in a portable package that can deliver 10,500 running watts and handle a surge of up to 13,000 watts.
Whether you're looking for a gasoline-powered or a hybrid gas propane generator that can easily power household appliances (including your furnace, air conditioner, or a 240v oven)…
The DuroMax Hybrid Elite XP13000EH is a dual fuel 13,000-watt portable generator that deserves to be on your shortlist (I liked it so much I bought one for myself!)
DuroMax XP13000EH Dual Fuel Portable Generator 13000 Watt Gas or Propane Powered Electric Start-Home Back Up, Blue/Gray
POWERFUL DUROMAX ENGINE: The XP13000EH is equipped with a robust 500cc OHV Duromax Engine, running at 3600 RPM and featuring a 10-inch wheel diameter. It offers impressive power output:

With Gasoline: Peak Wattage – 13,000, Running Wattage – 10,500, Running Amperage at 120V – 87.5, Running Amperage at 240V – 43.75, Runtime at 25% Load – 17 hours, Runtime at 50% Load – 8 hours
With Propane: Peak Wattage – 12,350, Running Wattage – 9,975, Running Amperage at 120V – 83.13, Running Amperage at 240V – 41.56, Runtime at 25% Load – 13 hours, Runtime at 50% Load – 6 hours

Please read the detailed safety instructions in the manual before operating. The generator also includes a Fuel Gauge, Gasoline Tank Capacity of 8.3 Gallons, Volume (db) of 74 dB, and uses a 12V SLA Battery Type.

DUAL FUEL TECHNOLOGY: The XP13000EH offers the convenience of running on either Propane or Gasoline, providing you with the freedom and flexibility to choose your preferred fuel type.
PLENTY OF POWER: With 13,000 starting watts and 10,500 running watts, this unit can handle heavy loads, making it suitable for powering lights, refrigerators, home conditioners, and high amperage power tools.
MAXIMUM POWER: The power panel is designed to offer maximum compatibility in various applications and includes the following outlets: 1 120/240V 50A heavy-duty outlet, 1 120/240V 30A twist lock outlet, 1 120V 30A twist lock outlet, and 2 120V 20A household outlets.
POWERING EVERYONE ANYWHERE: Like all DuroMax generators, the XP13000EH is EPA and CARB approved, making it suitable for use in all 50 states, ensuring reliable power for everyone, anywhere.
Check out the more than Five Thousand 4.5-star reviews on Amazon! And check out eBay.
Tip: Check out this Duromax XP13000EH vs. XP13000HX blog post to learn why I chose the 13,000-watt portable EH vs. HX generator model. Or, if you are looking for a 12,000-watt portable generator, check out Duromax 12000HX vs. 12000EH.