Generator maintenance tips (For Years Of Trouble Free Service)
Maintaining your backup generator can ensure that you can use it when you need it during the next power outage. Many people do not take the time to do the kind of generator maintenance needed to keep it working for years to come.
What can you do to keep your built-in or portable generator in the best shape possible?
Read on for important generator maintenance tips you want to follow.
1. Check the Fuel
You want to make sure you do not leave old gasoline in the generator's fuel tank. Most people use their standby generator only a couple of times a year during power outages, which means the gasoline will get stale.
You can prevent the fuel from degrading by adding a fuel stabilizer. This can also prevent gum and varnish buildup, which can cause trouble in your generator.
The best thing to do is to empty out the fuel tank and the carburetor of your portable generator once storm season in your area has passed. If there is a drain on the carburetor of your portable generator, be sure to wait for the engine to cool before emptying it. If there is not, you can empty the tank and run the generator until it no longer has gas.
Read our article on generator run times if you'd like to know "how long can a generator run continuously?"
2. Run the Generator Every Few Months
One of the generator servicing and maintenance tips you need to follow if you want to be sure the generator will turn on when you most need it is to run it every three months.
Turning it on and running it regularly will keep the generator's electric starter battery fully charged. Experts recommend running it for at least 30 minutes. This will also help avoid gum build-up in the carburetor of a gasoline-powered portable generator.
If it is a portable generator, move it outdoors or somewhere well-ventilated to avoid breathing in harmful fumes such as carbon monoxide.
3. Inspect Fuel Lines
Fuel lines can clog and even crack. Damaged fuel lines will prevent the right amount of gasoline from reaching the fuel system, which means the generator will not run as efficiently as you need it to. This problem can also result in leaking fuel, which is dangerous as it can lead to a fire or even an explosion.
You can try to clear the clogged fuel line, but the best thing is to purchase a new one and replace the old one. They're not expensive, and replacement is usually the fastest, least frustrating, and most effective solution.
4. Clean or Replace Air Filter
Inspect your generator's air filter. Does it look dark and dirty if you hold it to the light? If yes, then replace it.
Air filters are somewhat delicate and easily break down with use, putting your generator at risk. You can try to clean the air filter, but be sure to use care to avoid ripping it or otherwise causing physical damage. You can wash it in soapy water, avoiding harsh chemicals, and allow it to air dry for 24 hours.
Since air filters are affordable to replace, here again, it can save you time and stress to buy a new one.
Some generators also have fuel and/or oil filters that you will want to check periodically. The advice above applies here, too: get a new fuel filter and don't try to clean the old one. Note that not all portable generators necessarily have these filters.
5. Invest in a Generator Cover or Enclosure
You may wonder: can a generator get wet without damage? Water can damage a generator in various ways, so you want to protect it from the elements. A removable cover can work perfectly for portable generators. That's also a good option for a standby generator, but you might consider building a protective enclosure instead.
Here's a DIY generator cover that has worked for me for years… a piece of plywood strapped onto my portable generator with a couple of bungee cords. It's not pretty, but it works!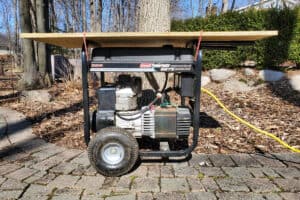 6. Change Your Oil Frequently
Running your generator for hours can deplete its engine oil supply. You can expect to do an oil change 6 – 20 hours after the first time you use it and another oil change every 50 – 100 hours from then on (check your manual), which is why you need a substantial supply of oil in storage.
Tip: check out our "How often should I change my generator oil" for more info.
7. Keep Extra Fuel On Hand
You never want to run out of gasoline or fuel while using the generator is running. The generator will keep putting out power as it comes to a stop, and that means your home's electrical load could drain the residual magnetic field from the generator's coils.
You will not notice anything wrong when you restart the generator because it will run but not create power because the coils are dead. You may need to take the generator to a repair shop to reenergize the coils. It is possible to do it yourself if you're mechanically inclined: search online for "remagnetize generator" or "flash generator".
8. Inspect Spark Plugs
Spark plugs on a portable generator can get dirty and have trouble igniting. They will not create the arc of electricity your generator needs to start. To inspect the plugs, allow the generator's engine to cool completely before removing them.
If you see the spark plug is dirty, clean it with a wire brush or dedicated spark plug cleaner and then re-install it into the generator with a torque wrench. Make sure you do not over-crank and strip the plug's threads. Applying enough torque to strip the threads can also break the insulator or damage the engine.
Plugs may look fine but not work. Test their resistance with a multi-meter to see if they need replacing. If your air filter needs to be replaced, chances are the plugs will also need to be swapped out with new ones.
9. Invest in a Heavy-Duty Cord
Because generators are loud, people tend to place them as far from their homes as possible. This diminishes the noise, but it also reduces the voltage, forcing your generator to work harder and still transmit less power.
If you want to place a portable generator at a distance, choose a 12-gauge heavy-duty extension cord that is no longer than 100 feet. Lighter cords or longer distances mean a more significant loss of voltage. Voltage drops can cause motor burnout.
Ensure a built-in generator is installed with properly gauged wire and conduit.
10. Store Your Portable Generator Correctly
In addition to ensuring you've done all the regular portable generator maintenance, you must take additional steps to protect the engine if you know you will not be using a portable generator for a few months. You will want to remove the battery, clean the posts, and ensure it is fully charged.
You then want to remove the fuel from the fuel tank and the carburetor float chamber. Remove the spark plug and add a few drops of oil through the plug hole. Before you return the spark plug to its place, gently pull the recoil starter cord a few times.
Provide a final cleaning, and check that all openings, including cooling air slots, have no obstructions.
Keep Your Generator Running With Generator Maintenance
Keep these tips in mind to ensure your generator is well-cared for. When you take the time to provide regular maintenance, you can be confident you will have a reliable backup power source for years.
You should note that standby and portable generator maintenance can be significantly different. While there are essential maintenance tasks you can do yourself on a standby generator, you'll probably also want to have professional inspection and maintenance done regularly — particularly given how expensive that equipment is.
Quick Tip: For safety's sake, you should know how to ground a generator.