An inverter generator is a newer type of portable generator, and its design makes it an improvement on conventional generators for many uses, from camping and tailgating to powering your home during a power outage.
An inverter generator typically uses less fuel, produces fewer emissions, and are typically much quieter than a conventional generator.
But what is an inverter generator and how do they work? Read on to find out…
What is a portable generator?
Portable generators are comprised of five basic functional parts: internal combustion engine, alternator, starter, fuel tank, and outlets.
Portable generators run on fuel for the engine, the engine turns the alternator which produces the AC current which is made available through the outlets that you plug appliances into. All wrapped up in a small enough package to be transported from one place to another.
How Do Inverter Generators work?
As we just saw, a traditional generator produces alternating current (AC) using an alternator attached to the engine and routes that power directly to it's outlets.
An inverter generator also produces AC current in the same way, but converts it to direct current (DC) with a rectifier and then back to AC using an inverter.
Electronic switches in the inverter regulate and adapt the DC power input, not only converting in into AC power but smoothing out the power fluctuations and spikes in the current along the way. The result is an inverter generator produces electricity that is cleaner and smoother, just the kind you need to avoid harm or malfunction of many electronic devices.
A Little History
While conventional portable generators have been around for about 100 years, Honda motors debuted the first portable inverter generator in 1987. The first model produced electricity with what's known as a square waveform, which can cause problems. In 1988 they came out with model that produced output with a pure sine wave, which is what you want. Electrical power in pure sine wave form not only is recommended for electronics, it also works best for electrical motors, allowing them to run at peak efficiency.
Sizes of Inverter Generators
Depending on your needs and usage, the size of the inverter generator you should get will vary. Consider what you will be using it for and under what conditions to determine which one will work best for you.
Recreational Inverter Generators
A recreational inverter generator is small, and will weigh no more than about 60 pounds. They put out about 2000 watts. Let's consider some potential applications for different power capabilities.
1000 watts is approximately enough power to run a coffee maker. You can also run a low-power slow cooker and a small toaster oven. When considering off grid energy options, you might have certain items you want to always keep on, such as a mini-fridge, which uses about 200 watts.
A small TV, about 25″, running continuously could take up about 150 watts. Additionally, you could rotate one or two other small appliances, such as a blender.
Mid Size Inverter Generator
A mid-size inverter generator may weigh 80 lbs or more. To improve its portability, it may come with wheels. These typically have wattages of between 2500 watts to 4500 watts.
This will give you enough power to run a RV air conditioner, a small refrigerator, and a few small appliances at the same time.
Large Inverter Generators
These are the biggest of the bunch and can weigh more than 250 lbs. At 220 volts, they can produce up to around 9000 watts of power. A large inverter generator can power entire homes with a transfer switch — although you need to be careful not to overload the generator, say by running central AC, multiple refrigerators, and laundry machines all at the same time.
What's the difference between an inverter generator and a regular generator?
There are a few key differences between inverter generators and regular generators. As already noted, inverter generators produce cleaner power than regular generators.
Inverter generators also tend to be much quieter than regular generators, making them ideal for use in camping or RVing situations where noise might be an issue. This is partly because an inverter generator can throttle the engine speed down if less than maximum power is needed. Conventional generators must run their engines at a fixed high speed (usually 3,600 RPMs in the US market) to produce the needed frequency that appliances are designed to use.
The ability to throttle down the engine means that inverter generators are more fuel efficient when the wattage demanded is relatively low, as is often the case. Using less fuel not only saves money, it reduces environmental impact and decreases fuel storage needs.
Tip: for more about reducing environmental impact and improved fuel storage, see "Propane vs Gas Generator"
Finally, inverter generators are usually more expensive than regular generators, but they offer a number of advantages that may make them worth the investment.
Benefits of an inverter generator
Because of their advanced technological aspects, there are many advantages of using an inverter generator. Here are some of them.
1. Quiet operation
Portable generators have the reputation of being loud. So engineers of inverter generators took a look at the construction of portable generators and redesigned them to help to make them quieter.
Some are quieter just because they have engines that are physically smaller. Some have technology specifically to dampen sounds and minimize noise.
The housing that they are built with specifically works to dampen noise. Additionally, their ability to operate at lower engine speeds under light loads means that overall volume is reduced.
Newer inverter generator models are so quiet that they can even be used at home. They average around 50-60 decibels, which is about the volume of a normal conversation.
Honda inverter generators have a reputation for being especially quiet: check out the Honda EU2200i
2. Lower emissions
Inverter generators in general have lower emissions than conventional generators. Additionally, many have a CO safety shut-off valve. This means that in an enclosed space, the generator will shut off if CO levels reach a dangerously high level.
3. Good for power-sensitive equipment
Inverter generators have a harmonic distortion of 5 percent or less. Their ability to deliver clean power makes them ideal for use with sensitive electronics.
What is harmonic distortion?
Harmonic distortion is a measure of how far the shape of an electrical wave deviates from being a pure sine wave. The higher the harmonic distortion, the greater the risk of problems with certain types of devices you are powering.
For instance, running stereo equipment or audio equipment would best be accomplished with an inverter generator. Otherwise the quality of the sound could be affected — causing hum, pops, and clicks.
And you would want to choose a power source with the cleanest source of energy available for powering computers, laptops, or cellphones. In a computer, the high total harmonic distortion could even cause the computer to corrupt memory when it is powered by a traditional generator.
4. Fuel efficient
By design, inverter generators adapt to the necessary power output required at the time. Instead of running at one set rate, the engine will change speed depending on the load demanded. So the engine won't use any more fuel than is necessary. This helps to conserve fuel and also reduces emissions.
Many inverter generators have an eco-mode switch that makes the generator work even more aggressively at saving fuel. This comes at the expense of possibly stalling out if the engine is still cold, and responding more slowly to changes in load.
5. Lightweight and Portable
Inverter generators are often made to be lighter and more portable than conventional generators. These models are constructed with advanced methods and designs that also make them more compact. Which, when you're transporting them, is a noticeable advantage.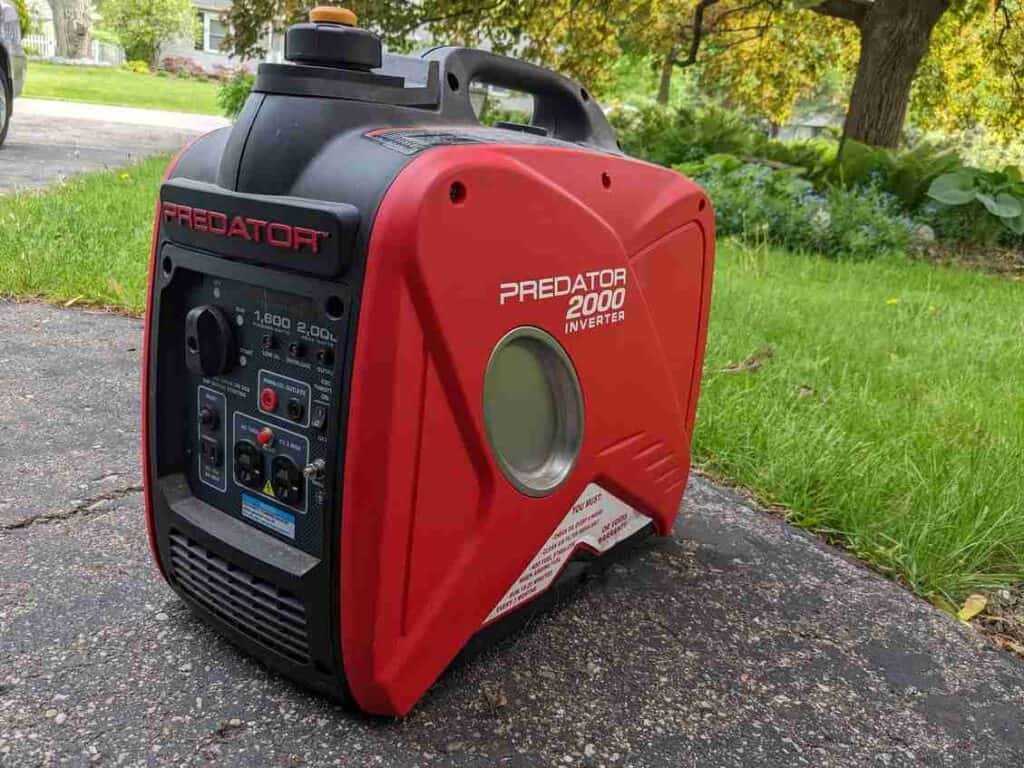 This makes generators like the DuroMax XP2300iH ideal for camping, fishing, and other outdoor activities. Plus, when you are not using them, their smaller body size makes them easier to store.
Some generators can weigh as little as 30 lbs, which makes bringing them to a job site easy and hassle-free.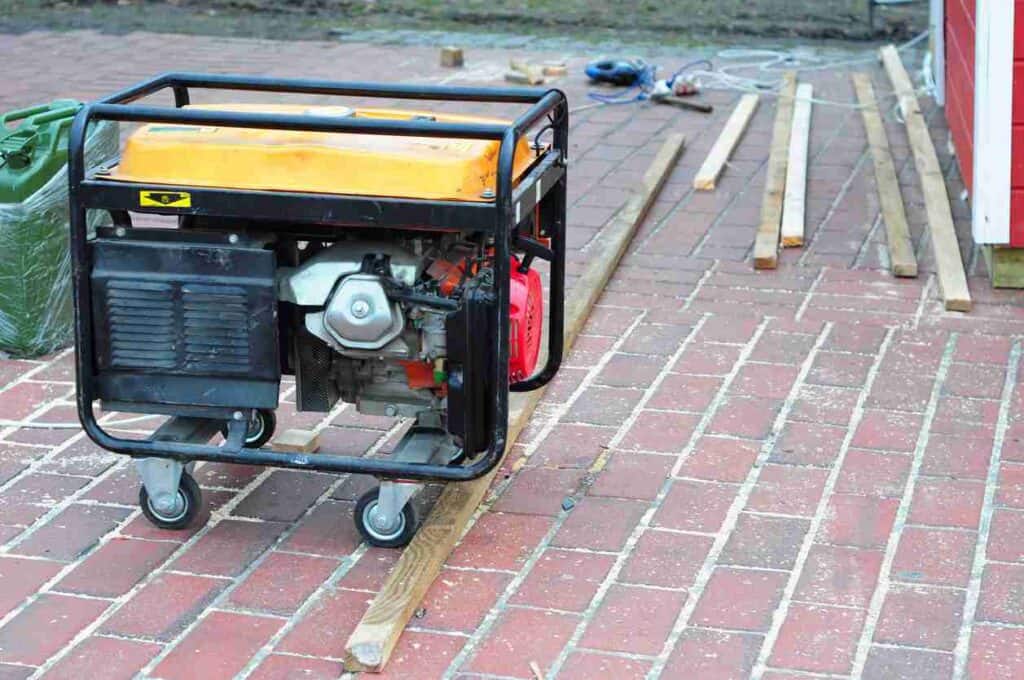 6. They Can Be Paired For Greater Output
You can increase the power output available by pairing up the generator with another compatible one using a parallel kit. So instead of replacing an inverter generator if you need more power, you can upgrade it.
It is possible to pair conventional generators, but it's highly technical and risky; with inverter generators you can easily do it with a parallel kit. But the generators must be compatible with each other. Usually you would just use two of the same model.
7. Advanced technology
Many inverter generators have "smart" features that give useful information. For example, it will show you how much fuel is left so you can plan ahead.
Also, you can see how much power it is putting out. This is helpful because it allows you to figure out if you can safely run more appliances. Finally, some will even tell you if it is time for maintenance, so you can preserve the life of the generator.
Cons of Inverter Generators
When looking to invest in an inverter generator, being aware of some of the disadvantages can help you plan ahead and also determine the best options for you.
1. Higher cost
Because of the advanced technology and design, inverter generators cost more than conventional generators for a given wattage output. Their ability to work at varying levels and meet the demands of the output means that the components and mechanics are more sophisticated and expensive.
So the upfront cost of an inverter generator is higher than traditional generator. However, because of its ability to adjust engine speed to match power usage, the resulting fuel efficiency will produce cost savings over time.
2. Lower power output
Conventional portable generators produce power ranging from 500 to 20,000 watts. The highest wattage consumer grade inverter generator currently available is the Duromax XP9000iH, which peaks at 9000 watts.
On average, an inverter generator will put out between 1000 to 5000 watts of power. This limits their usage by themselves in many applications. However, as noted before, two generators can be used at once and synced up to increase power output.
Which is better: an inverter or generator?
Both machines are incredibly convenient and powerful. To determine which is better for you, look at the various needs and applications you will have for each one.
Inverter generators provide specialized power applications and solutions in situations that typically need lower wattages than conventional generators. However, the additional features of being quieter, lower weight, and using less fuel make an inverter generator an appealing choice for many people.
In general, inverters use newer technology that could be more cost-effective over the long term. On the other hand, if you need a large power output, it may be that only a conventional generator will do the job.
Is an Inverter Generator Worth It?
If you properly maintain an inverter generator, it will usually outlast a traditional portable generator. Its specialized features and engineering make it a better option in some situations than a conventional generator. Because of its fuel efficient nature, portability, and high quality power output, an inverter generator is often worth the higher price.
Inverters are also used for solar power. Check out our article "How Does A Solar Generator Work?" for more information.