Solar generators work by using solar panels to convert sunlight into electrical energy and then storing that energy in a solar battery.
Solar powered generators use four fundamental components to convert the sun's energy into electricity. Those components are solar panels, a charge controller, a battery and an inverter.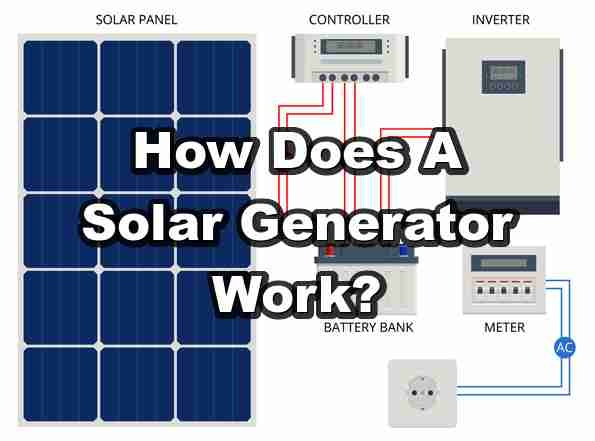 Solar Panels
Solar panels are needed to harvest the sun's photons, utilizing a renewable energy source. A portable solar panel collects photons or light particles. Once collected, free electrons from the individual atoms are knocked free, which prompts the flow of electricity. Many small photovoltaic cells within each solar panel help convert the photons to electricity.
Usually, photovoltaic cells are made with semiconducting materials built into a sandwich constructed with semiconducting panels. Silicon is commonly used because it is readily available and relatively affordable. The free electrons are collected as the atoms are bounced and trapped between the cells. When enough free electrons are allowed to flow, it generates an electric current.
An entire system of interconnected solar panels is called a solar array, and will produce significantly more power than a single solar panel (see what is a solar array for more info).
Charge Controller
The charge controller is the second component of the solar generator that helps to protect the battery by limiting the flow of free electrons. Charge controllers work by throttling the flow of electrons into the battery, ensuring a steady stream is enough to charge the battery without overwhelming and overheating the battery.
Some charge controllers will have high-end features that will allow for charging and discharging the battery based solely on the type of battery and the available energy source. These controllers can differentiate between a charge coming from photons, the traditional power grid, or even a car battery.
Battery
Probably the most integral part of a solar power generator is the solar battery. The battery works to store the energy collected from the sun, providing available backup power when needed. The battery will hold the charge until it is time to use the generator to power or charge a device. Think of the solar battery as the solar bank, or storage unit, for the backup power and energy collected from the solar panels.
Today, most solar powered generators will utilize lithium-ion batteries. This type of battery is highly efficient and has a large storage capacity. Plus, compared to batteries of the past, lithium-ion batteries are extraordinarily safe and long-lived. More affordable solar generators or older models may utilize lead-acid batteries, but these are quickly becoming phased out of newer generator models.
Inverter
The last component of the solar generator is the inverter which works to transfer the electricity into usable AC power. When electricity is collected from the free electrons that have broken off the sun's photons, the power is directed into the battery and stored as direct current, also called DC. Most appliances, mobile devices, and tools used in everyday homes run on alternating current or AC (see What Can You Run On a Solar Generator?). The inverter works to transform the DC current to AC, rendering the stored energy usable in your home.
Nearly all solar powered generators come with an inverter built into the system, but some models may have an optional inverter. If you have items and devices in your house that run on only DC current, it may still be possible to use a generator without an inverter.
Tip: Get a grip on the difference between a generator and an inverter.
Wrapping It Up
Solar generators may seem complicated, but these systems are pretty simple. With just four essential components, including solar panels, a controller, a battery, and an inverter, these generators can capture powerful photons from the sun and store the energy for later use. Solar generators can run for up to seven days on a single charge and are a great tool to charge mobile devices or power small appliances.
Tip: If you're concerned about environmental impact, but solar power won't work for you, have a look at the environmental benefits of propane generators.