Solar generators use solar panels to convert sunlight into electrical energy and then store that energy in a solar battery.
Solar powered generators use four fundamental components to convert the sun's energy into electricity. Those components are solar panels, a charge controller, a battery, and an inverter.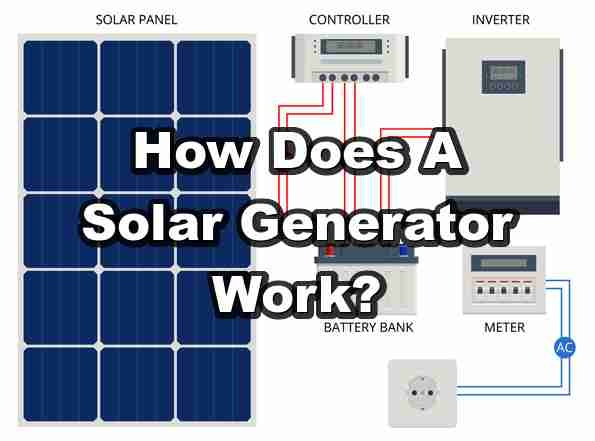 Solar Panels
Solar panels are needed to harvest the sun's photons, utilizing a renewable energy source. A portable solar panel collects photons or light particles. Once collected, free electrons from the individual atoms are knocked free, which prompts the flow of electricity. Many small photovoltaic cells within each solar panel help convert the photons to electricity.
Usually, photovoltaic cells are made with semiconducting materials built into a sandwich constructed with semiconducting panels. Silicon is commonly used because it is readily available and relatively affordable. The free electrons are collected as the atoms are bounced and trapped between the cells. When enough free electrons flow, it generates an electric current.
An entire system of interconnected solar panels is called a solar array. It will produce significantly more power than a single solar panel (see what is a solar array for more info).
Charge Controller
The charge controller is the component of the solar generator that helps protect the battery by limiting the flow of free electrons. Charge controllers work by throttling the flow of electrons into the battery, ensuring a steady stream is enough to charge the battery without overwhelming and overheating the battery.
Some charge controllers will have high-end features that will allow for charging and discharging the battery based solely on the type of battery and the available energy source. These controllers can differentiate between a charge coming from photons, the traditional power grid, or even a car battery.
Battery
The solar battery is probably the most integral part of a solar power generator. The battery stores the energy collected from the sun, providing available backup power when needed. The battery will hold the charge until it is time for the generator to power or charge a device. Think of the solar battery as the solar bank, or storage unit, for the backup power and energy collected from the solar panels.
Today, most solar powered generators will utilize lithium-ion batteries. This type of battery is highly efficient and has a large storage capacity. Plus, lithium-ion batteries are extraordinarily safe and long-lived compared to past batteries. More affordable solar generators or older models may utilize lead-acid batteries, but these are quickly becoming phased out of newer generator models.
Inverter
The last component of the solar generator is the inverter, which converts the electricity into usable AC power. When electricity is collected from the free electrons that have broken off the sun's photons, the power is directed into the battery and stored as direct current, also called DC. Most appliances, mobile devices, and tools used in everyday homes run on alternating current or AC (see What Can You Run On a Solar Generator?). The inverter transforms the DC to AC, rendering the stored energy usable in your home.
Nearly all solar powered generators have an inverter built into the system, but some models may have an optional one. Using a generator without an inverter may still be possible if you have items and devices in your house that run on only DC.
Tip: Get a grip on the difference between a generator and an inverter.
Wrapping It Up
Solar generators may seem complicated, but these systems are pretty simple. With just four essential components, including solar panels, a controller, a battery, and an inverter, these generators can capture powerful photons from the sun and store the energy for later use. Solar generators can run for up to seven days on a single charge and are a great tool to charge mobile devices or power small appliances.
Tip: If you're concerned about environmental impact, but solar power won't work for you, look at the environmental benefits of propane generators.
Bestseller No. 1
Jackery Solar Generator 1000, 1002Wh Capacity with 2xSolarSaga 100W Solar Panels, 3x1000W AC Outlets, Portable Power Station Ideal for Home Backup, Emergency, RV Outdoor Camping Black, Orange
Clean and Unlimited Solar Energy: 100% green energy with smart MPPT controller for optimal charging efficiency. The power station can be fully charged with 2 Jackery SolarSaga 100W solar panels within 8 hrs(0-100%) or only 5.5 hrs (0-80%) via AC wall outlet charging. Ideal for your camping or home backup.
Easy to Use: The ergonomic shape of the handle grants an ease grip. And use in one touch with simple and speedy setup within 60s to enjoy outstanding charging efficiency.
Safe & Reliable for Outdoor Camping: Features industry-leading cylindrical batteries (popular with manufacturers of Electric Vehicles) that meet UL safety standards. Certified with Impact-Resistance Class 9, passing the UL drop test (withstanding 3 drops from 0.9m height on any surface). The pure sine wave inverter delivers constant voltage that protects equipment from damage.
Power Pretty Much Anything: Power 90% home appliances with 1002Wh (1000W AC output power) and 8 outlets (3*AC outlet, 1*USB-A , 1*USB-A quick charge 3.0, 2*USB-C PD, 1*Car outlet).
Quiet & Strong: At a such large capacity, this Explorer will make virtually no noise, giving you the peace and power all at once. Extra bonus for the built – unlike most other portable generators, this supports pass-through charging while its battery life is protected.
Sale
Bestseller No. 2
Portable Power Station 300W (Peak 600W), GRECELL 288Wh Solar Generator with 60W USB-C PD Output, 110V Pure Sine Wave AC Outlet Backup Lithium Battery for Outdoors Camping Travel Hunting Home Blackout
【288Wh Capacity, 330W Output】330W (600W surge) pure sine wave supports most laptops, tablets, phones, lights, fans, CPAP medical devices, projectors, TV, mini-refrigerator, speaker, camera (rated power less than 330W). 288Wh huge capacity but light weight makes it compact and perfect for camping, car trips and other family outings.
【Upgraded Battery Management System】We promise to adopt quality lithium batteries since we found that the use of lower-quality batteries could pose a serious risk to life and should become a crucial part of deciding what to buy. Upgraded BMS provides built-in overload, overcharge (automatically stops charging when the device is full), and short-circuit protection. Dual built-in silent cooling fans help to keep the station's temperature safe.
【USB-C PD 60W, USB-A QC 18W】PD60W fast charging makes it possible to charge Android and iPhone, tablets, and laptops quickly, more than twice as fast as other standard USB-C output, and ultra-high efficiency in emergencies. All USB-A ports are quick-charge 3.0 18W, providing higher efficiency for each device.
【Power 8 Device simultaneously】Equipped with 1*AC output, 1*USB-C PD 60W output, 3*USB-A QC3.0 18W outputs, 1*Car port, 2*DC outputs, GRECELL solar generator can power eight devices at the same time (as long as they draw less than 330W combined). Each switch can control each output module.
【3 Ways To Recharge, Built-in MPPT Controller】GRECELL power station, can be charged via an AC outlet, a solar panel, or a car outlet. Built-in MPPT (Maximum Power Point Tracking Control) so it can extract the maximum power from the solar panel, optimizing the utilization of variable power sources like a solar generator.
Bestseller No. 3
EF ECOFLOW Solar Generator DELTA2 with 220W Solar Panel, LFP(LiFePO4) Battery, Fast Charging, Portable Power Station for Home Backup Power, Camping & RVs
Made for the Outdoor. Replace your outdoor generator with a solar generator. Includes a 220W Bifacial solar panel to capture up to 25% more energy. Charge your DELTA 2 even faster with green energy.
Built to Last 6x Longer. Its LFP battery chemistry makes for a portable power station with a 3000+ cycle life. Enough for years on end of use. With a sophisticated BMS, you can go easy knowing its an auto-regulating portable battery to keep you safe.
Power Almost Anything. Solar powered generator have come a long way. Power all your appliances with 1800W output, that's on par with outdoor generators without the fumes or noise. With 15 outlets and its huge output, you can power 90% of your appliances.
Expandable Capacity from 1-3kWh. With the standalone portable power station sporting 1kWh, you can add on extra batteries to reach up to 3kWh. Ideal for camping, RVs or home backup power.
What you Get. DELTA 2 Power station, 220W Solar panel, Adjustable kickstand case, AC charging cable, Car charging cable, Solar charging cable, DC5521 to DC5525 cable, User manual, and an exclusive 5 year warranty.
Bestseller No. 4
Portable Power Station 1000W AlphaESS 1036Wh Solar Generator with 3x110V/1000W AC Outlets for Home Use Emergency Backup Power Outage Outdoor Camping
🔋[POWERFUL & DURABLE]: With 1,036Wh(288,000mAh) big capacity and 3 110V PURE SINE WAVE 1000W AC outlets, the portable power station can charge your device stably, such as CPAP machine, refrigerator, laptop, TV, fan, lights, etc. 3 12V regulated DC, 1 Type-C PD 100W, 1 Type-C, 2 USB-A, 2 wireless charging can charge your phones, drones, iPad, camera, etc. Versatile output ports meet the wide needs of home and outdoor activities.
🔋[FLEXIBLE CHARGING CHOICE]: The portable generator can be charged through the 100W USB-C PD(Power Delivery) and the 180W AC outlet simultaneously. You can also recharge it via solar panels when on an RV camping and road trip. PASS-THROUGH CHARGING is supported. Ideal power solution for emergency backup.
🔋[PORTABLE & EFFICIENT]: Armed with a foldable handle & 2 LED PANEL LIGHTS, easy to use, carry, and store in an RV/home, and it's great for campsites, caves, roadside emergencies. The integrated MPPT charge controller helps achieve optimal charging efficiency and easily stores limitless green solar energy.
🔋[SAFE & PROFESSIONAL]: With 11 years of experience in green power solutions areas, we've reached 90,000+ people around the world with energy storage systems. The reliable Battery Management System provides multi-protection to keep the unit safe. Qualified quality and design by CE, FCC, UN38.3, MSDS.
🔋[WHAT YOU GET]: 1* AlphaESS 1036Wh Portable Power Station, 1* AC Adapter, 1* Car Charger Cable, 1* USB-C Cable, 1* User Guide and AlphaESS offers 24 months warranty and lifelong technical support.