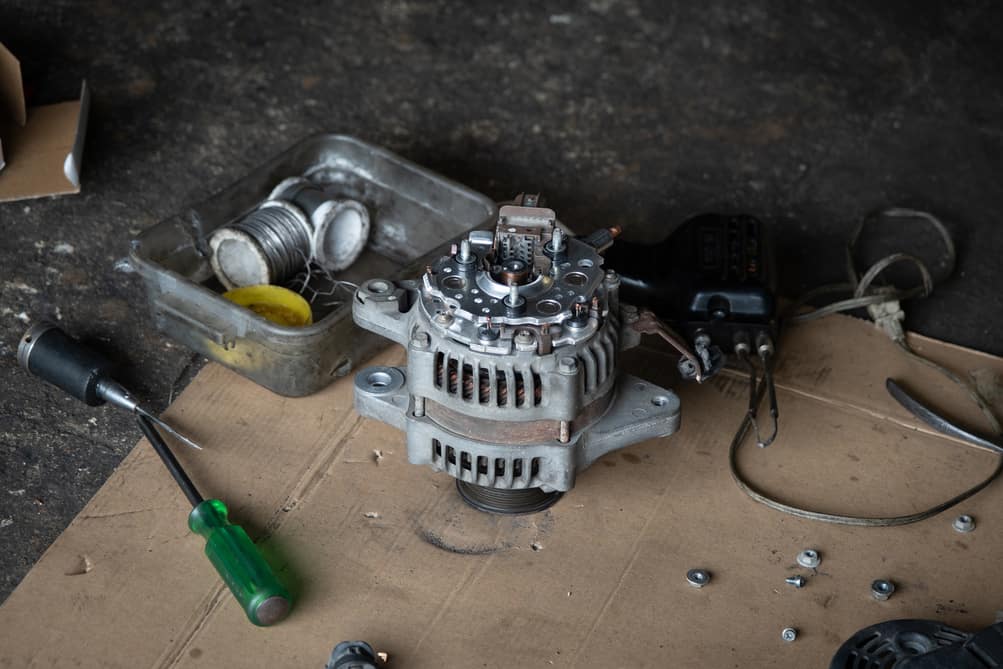 It's a common scenario: You need power, but your trusty generator won't start. Did you know a defective spark plug or clogged carburetor could potentially be the cause? This article will walk you through simple troubleshooting steps to help revive your silent machine and get it humming again.
So, let's dive in and illuminate this issue!
Key Takeaways
Checking the fuel level and ensuring the fuel valve is open can help troubleshoot a generator that won't start.
Inspecting and cleaning the carburetor can remove blockages that may be preventing fuel flow to the engine.
Testing the battery's voltage and checking its connections is important when troubleshooting a generator that won't start.
Common Reasons Your Generator Won't Start
Your generator won't start if the oil level is low, you're out of gas, the choke lever is in the incorrect position, the fuel valve is closed or clogged, the carburetor is clogged or air-locked, there's a faulty spark plug, the low-oil sensor is malfunctioning, the battery is dead, electronics are plugged in during startup, or if the air filter is clogged.
If you don't want to have to deal with these issues, your best bet is to get the legendary quality of a Honda Generator.
Low oil level
A low oil level can be a major roadblock for your generator. This is because most generators have an automatic shut-off feature that kicks in when the oil levels dip below safety limits.
The feature protects the engine from potential damage caused by running without enough oil, which lubricates its moving parts and keeps it cool. Therefore, if you find it difficult to start your generator, check the oil gauge first to see if there's enough fluid.
If not, refill it per manufacturer recommendations before running your generator again.
Out of gas
Running out of gas is a familiar scenario for most generator users. Your engine needs fuel to operate, but sometimes, you forget to refill the tank or underestimate how much power your activities will consume.
Under such circumstances, your generator gas tank could be dry and unable to supply the needed fuel, causing it not to start.
Knowing the fuel level in your generator is crucial at all times. Always maintain an ample amount of gas in your tank for emergencies. You can easily check this by looking inside or using a stick to measure the depth.
A lack of proper fuel flow from your gas tank might also result in difficulties when trying to start your generator. Ensure there are no clogs or leaks in the lines carrying fuel from the reservoir to the carburetor.
Incorrect choke lever position
The choke lever plays a crucial role in starting your generator. If it's not positioned correctly, your generator might struggle to start or won't run at all. Setting the choke lever pushes more air into the carburetor and enriches the fuel-air mixture required for ignition.
This action is especially crucial when starting a cold engine. However, leaving it open once the engine heats up could flood the spark plug with fuel and prevent proper operation. Hence, knowing how to adjust this simple yet important component can be key to ensuring the smooth running of your generator.
To correct an incorrect choke lever position, move the lever towards 'Start' or 'Run.' Keep track of its condition as part of your regular maintenance routine!
Closed or clogged fuel valve
A closed or clogged fuel valve can prevent your generator from starting. The fuel valve allows fuel flow into the carburetor, where it mixes with air to create combustion.
If the fuel valve is closed or blocked, no fuel will be able to reach the engine, resulting in a failure to start. To troubleshoot this issue, check that the fuel valve is fully open and not obstructed by debris.
Clean any clogs from the valve using a brush or compressed air if necessary. By ensuring that your fuel valve is open and blockage-free, you can increase the chances of getting your generator up and running smoothly again.
Clogged or air-locked carburetor
A clogged or air-locked carburetor can prevent your generator from starting. When the carburetor becomes clogged with dirt, debris, or old fuel residue, it restricts the flow of gasoline into the engine.
This lack of fuel can cause the generator to sputter or not start. Additionally, if air gets trapped in the carburetor, it disrupts the proper mixture of air and fuel needed for combustion.
To fix this issue, you must thoroughly inspect and clean the carburetor. Make sure to remove any blockages and ensure that all passages are clear for optimal fuel flow. Addressing a clogged or air-locked carburetor increases your chances of successfully starting your generator and keeping it running smoothly.
Faulty spark plug
A faulty spark plug can be a common reason your gas-powered generator won't start. The spark plug ignites the fuel and air mixture inside the engine cylinder, creating the necessary combustion for the generator to run.
If the spark plug is damaged or worn out, it may not produce a strong enough spark to ignite the fuel. This can result in a lack of power and prevent your generator from starting properly.
To fix this issue, you must replace the faulty spark plug with a new one compatible with your generator model. By doing so, you can ensure that your generator has a reliable ignition source and increase its chances of starting successfully.
Malfunctioning low-oil sensor
If your generator doesn't start, a malfunctioning low-oil sensor could be the culprit. This sensor is designed to shut off the generator if it detects a low oil level in the engine. However, suppose the sensor is faulty or not working properly. In that case, it can prevent the generator from starting even when enough oil is present.
To troubleshoot this issue, you may need to replace or repair the low-oil sensor so your generator can function as intended.
Dead battery
A dead battery is one of the common reasons why a generator won't start. If your generator isn't responding when you try to turn it on, it's worth checking the battery first. A dead battery can prevent the generator from starting or cause it to start and then shut off quickly.
To troubleshoot this issue, test the battery using a multimeter or try jump-starting it with another battery. Remember to take safety precautions when working with batteries, such as wearing gloves and safety glasses.
Electronics plugged in during startup
Plugging in electronics during startup can prevent your generator from starting. The power drawn from these devices can overload the generator, causing it to stall or not start.
It's important to unplug any appliances or tools before attempting to start the generator. Removing this extra load'll give your generator a better chance of starting successfully and running smoothly.
Remember that it's always best to prioritize powering essential items over non-essential electronics when using a generator.
See our Understanding Generator Wattage and Sizing for more information.
Clogged air filter
A clogged air filter can cause your generator to not start. When the air filter becomes filled with dirt and debris, it restricts airflow to the engine, making it difficult for fuel to ignite properly.
This can result in a weak or no spark, causing the generator to fail to start. You will need to clean or replace the air filter to fix this issue. Regular air filter maintenance is important for ensuring optimal performance and longevity of your generator.
Sale
Bestseller No. 1
Jackery Portable Power Station Explorer 300, 293Wh Backup Lithium Battery, 110V/300W Pure Sine Wave AC Outlet, Solar Generator (Solar Panel Not Included) for Outdoors Camping Travel Hunting Blackout
SPEED UP YOUR RECHARGEABILITY: It takes only 2 hours to recharge 80% battery of the power station through the wall outlet and 60W PD USB-C port simultaneously. You can also recharge your power station with an AC adapator when at home, through the car outlet during a road trip or simply use a Jackery SolarSaga 100.
SAFE & STEADY POWER SUPPLY: Armed with a 293Wh lithium-ion battery pack, the Explorer 300 features 2 Pure Sine Wave AC outlets that deliver stable and safe 300W power. The portable power station weighs only 7.1 pounds. You can simply rest assured in outdoor off-grid activities.
POWER YOUR EXPECTATIONS: Featuring 2* AC outlet, 1* PD 60W USB-C port (input/output supported) , 1* fast charge 3.0 port, 1*USB-A port and 1* DC car port, the power station can recharge itself and charge (up to) 6 devices (e.g.Drones, Macbook, Cameras, etc.) at the same time to satisfy your outdoor needs.
GREEN POWER SUPPLY: The power station is compatible with the Jackery SolarSaga 100 solar panel. The integrated MPPT controller enables the solar generator set to operate at its max power point, so that it speeds up the battery recharge, making them ideal portable power kits for tent camping, overland journey and etc.
WHAT YOU GET: 1* Jackery Explorer 300 Portable Power Station , 1*AC adapter, 1* car charger cable, 1* user guide
Bestseller No. 2
Westinghouse Outdoor Power Equipment 12500 Peak Watt Tri-Fuel Home Backup Portable Generator, Remote Electric Start, Transfer Switch Ready, Gas, Propane, and Natural Gas Powered, CARB Compliant,Blue
12500 Peak Watts, 9500 Running Watts (Gasoline); 11200 Peak Watts, 8500 Running Watts (Propane); 9500 Peak Watts, 7500 Running Watts (Natural Gas); Remote Start With Included Key Fob, Electric and Recoil Start; Up to 12 Hours of Run Time on a 6. 6 Gallon Fuel Tank With Fuel Gauge.Rated Speed (RPM) : 3600. THD : ≤ 23%
Features Two GFCI 120V 5–20R Standard Household Receptacle, One Transfer Switch Ready 120V L14-30R, and One RV Ready 120/240V 14–50R; All Outlets Have Rubber Covers for Added Safety
Powered by a Heavy Duty 457cc Westinghouse 4-Stroke OHV Engine Featuring a Long-Lasting Cast Iron Sleeve With Automatic Low Oil and Carbon Monoxide (CO) Shutdown, and Digital Hour Meter
Plug-and-Play: Comes With a Remote Start Key Fob, 12V Battery Charger, Oil, and Oil Funnel, a Tool Kit, and a User's Manual to Get You Started Right Out of the Box (Minimal Assembly Required)
All Westinghouse Portable Generators are Functionally Tested in the Factory and May Contain Minimum Residual Oil and/or Fuel smell; EPA and CARB Compliant; Backed By 3-Year Limited Service, Labor, and Parts Coverage and Nationwide Customer Service Network
Bestseller No. 3
GENMAX Portable Inverter Generator,1200W Ultra-Quiet Gas Engine, EPA Compliant, Eco-Mode Feature, Ultra Lightweight for Backup Home Use & Camping (GM1200i)
【Powerful Engine and Safe For Sensitive electronics 】The GENMAX 1200 Starting Watts Inverter Generator is powered by a 57cc 4- stroke OHV gas engine,with inverter technology produce 1200 Starting Watts/ 1000 Running Watts clean power (less than 3% THD), confidently connect your sensitive electronics such as TV, lights, fans, small power tools and more on camping trips, etc.
Bestseller No. 4
WEN DF475T Dual Fuel 120V/240V Portable Generator with Electric Start Transfer Switch Ready, 4750-Watt, CARB Compliant
Switch between gasoline (4750 surge watts, 3800 running watt) and propane (4350 surge, 3500 running) with the simple turn of the selection dial
Voltage easily goes from 120V to 240V, perfect for transfer switches and emergency backup
Electric start powers the 224cc 4-stroke OHV engine with the turn of a key
4-gallon tank provides up to 11 hours of half load run time
Includes two 120V GFCI outlets (5-20R), a 120V/240V NEMA 30A twist lock (L14-30R), a 12V DC cigarette-lighter-style plug, a bottle of oil, a wheel and handle kit, a 47-inch LPG connection hose, and a 2-year warranty
Troubleshooting Steps to Fix a Generator That Won't Start
To fix a generator that won't start, follow these troubleshooting steps and get your generator up and running in no time. Find out how to check the fuel level, clean the carburetor, test the battery, and more.
Read on for all the tips you need to know.
Check fuel level and valve
To troubleshoot why your generator won't start, you should first check the fuel level and valve. Ensure enough fuel is in the tank for it to run properly. Also, ensure the fuel valve is open and allows fuel to flow to the engine.
This step is important because a low or empty fuel tank or a closed or clogged fuel valve can prevent your generator from starting. By checking these two things, you can rule out any issues related to fuel supply and move on with troubleshooting other possible causes.
Inspect and clean the carburetor
To troubleshoot a generator that won't start, inspecting and cleaning the carburetor is important. A clogged or air-locked carburetor can prevent fuel from reaching the engine, causing startup issues.
Removing the carburetor and cleaning it thoroughly removes any dirt or debris blocking the fuel passage. This will ensure proper fuel flow and increase the chances of your generator starting successfully.
Test the battery
To troubleshoot a generator that won't start, it's important to test the battery. A dead or low battery can prevent the generator from starting up properly. To check the battery, you can use a multimeter or voltmeter to measure its voltage.
If the voltage is below the recommended level, it may need to be charged or replaced. Ensuring the battery terminals are clean and securely connected is also essential. By testing and maintaining the battery, you can ensure the reliable starting of your generator when you need it most.
Regularly checking and testing your generator's battery is crucial for proper functioning.
Check the fuel filter/water separator
Check the fuel filter and water separator as part of your troubleshooting steps if your generator won't start. A clogged or dirty fuel filter can prevent fuel from reaching the engine. At the same time, a water separator helps remove any fuel moisture that could be causing issues.
By inspecting these components, you can ensure that clean and proper fuel is delivered to the engine, increasing your chances of getting your generator up and running again.
Verify the spark plugs/glow plugs are working
Check the spark plugs or glow plugs to ensure they are functioning properly. Defective spark plugs can prevent the generator from starting, so inspecting them for any signs of damage or wear is important.
If necessary, replace them with new ones. Similarly, if you have a diesel generator, make sure the glow plugs are in good condition and provide sufficient heat for ignition. By verifying the functionality of these essential components, you can troubleshoot and address any issues preventing your generator from starting efficiently.
Clean the air filter
Cleaning the air filter is another important step in troubleshooting a generator that won't start. Over time, dust and debris can build up on the air filter, restricting airflow and affecting the engine's performance.
Removing and cleaning the air filter regularly ensures that it remains free from dirt and clogs. This will help maintain optimal airflow to the engine, improving combustion and increasing the chances of your generator starting successfully.
So make sure to include cleaning the air filter in your maintenance routine to keep your generator running smoothly.
Ensure proper maintenance
Proper maintenance is crucial to ensure that your generator starts when you need it most. Regularly inspecting and maintaining your generator can help prevent issues that may cause it not to start.
This includes checking the fuel level and valve, cleaning the carburetor, testing the battery, and verifying that the spark plugs are working properly. Additionally, clean the air filter regularly to keep it free from dirt and debris.
By following these maintenance steps, you can rely on your generator whenever you need it without any startup problems.
Additional Tips for Generator Startup
To ensure your generator starts up smoothly, keep the fuel fresh and not let it become stale.
Ensure fuel is fresh and not stale
To ensure your generator starts smoothly, it is crucial to use fresh fuel. Stale gasoline can cause various issues, including clogged carburetors and fuel lines. Always check the expiration date on your fuel containers and avoid using old or contaminated fuel.
Using fresh fuel will help maintain optimal performance and reliability in your generator.
Use a fuel stabilizer
Using a fuel stabilizer is essential for keeping your generator running smoothly. It helps to prevent the fuel from breaking down and becoming stale, which can clog the carburetor and make it difficult to start the generator.
By adding a fuel stabilizer to your gas tank, you can prolong the life of your generator and ensure that it starts up easily whenever you need it. So don't forget to use a fuel stabilizer as part of your regular maintenance routine!
Keep the generator in a well-ventilated area
To ensure proper functioning and safety, keeping your generator in a well-ventilated area is important. This means placing it in a location with adequate air circulation to prevent the buildup of exhaust fumes.
Generators produce carbon monoxide, a highly toxic gas that can be deadly if inhaled. Keeping your generator in a well-ventilated area can effectively dissipate these harmful fumes and reduce the risk of carbon monoxide poisoning.
Never run your generator indoors or in enclosed spaces like a garage or shed. Instead, position it outside at least 20 feet away from windows, doors, and vents to protect you and others from potential harm.
In addition to ventilation, regular maintenance of your generator is essential for optimal performance. This includes cleaning or replacing the air filter as needed to ensure proper air intake and fuel efficiency.
Check for mechanical issues
To troubleshoot a generator that won't start, it's important to also check for any mechanical issues. Look for any visible damage or loose connections, such as frayed wires or broken parts.
Inspect the recoil starter mechanism to ensure it's functioning properly and not blocked by debris. If you suspect an issue with the ignition coil, have it tested or replaced if necessary.
Additionally, ensure all engine components are securely fastened and in good condition to avoid any potential mechanical problems that may prevent your generator from starting.
Regularly inspect and maintain the generator
To keep your generator running smoothly and prevent any issues, it is important to regularly inspect and maintain it. By conducting routine checks, you can identify potential problems before they become major.
Inspect the fuel lines for leaks or blockages, check the oil levels to ensure they are sufficient, and inspect the spark plug for signs of wear or damage. Additionally, clean or replace the air filter as needed and test the battery to ensure it has enough charge.
Regular maintenance will help prolong the lifespan of your generator and ensure that it starts when you need it most.
Conclusion
A generator not starting can be frustrating. Still, you can often fix the issue with some troubleshooting and maintenance. You can get your generator up and running again by checking common problems like low fuel levels, clogged carburetors or air filters, and faulty spark plugs or batteries.
Always follow proper maintenance procedures and keep your generator in good working condition to prevent future startup issues.
Sale
Bestseller No. 1
Bestseller No. 2
Bestseller No. 3
Sale
Bestseller No. 4
VacLife Tire Inflator Portable Air Compressor/Pump for Car Tires (up to 50 PSI), 12V DC Tire Pump for Bikes (up to 150 PSI) w/LED Light, Digital Pressure Gauge, Model: ATJ-1166, Red (VL701)
[FAST INFLATING & EASY OPERATION] This auto tire air compressor can inflate your standard car tires in seconds. Plug it into the 12V power outlet in your car and attach the stem to the tire valve. A simple press on the car air compressor and it will do all the work for you. A great solution for emergency on the way.
[AUTO SHUT OFF] Simplicity meets functionality. VacLife car air pump provides you with rest-assured using experience based on the auto-shut off function. Preset the desired pressure level and start inflating job. The car air compressor will shut off automatically at the desired level. There is no need to worry about over inflating, VacLife smart inflator for tires got your back.
[MULTIPURPOSE NOZZLES] VacLife tire pump is equipped with 3 additional nozzles besides the original. A wider applying range to cover various needs for inflatables such as vehicle tires and sports or entertainment equipment including compact or midsize Sedan, SUV, ATV, bike, motorcycles, air mattress, inflatable boats, balls.
[NOTES] Please be aware that this tire inflator is not applicable for any large vehicles with TIRE PRESSURE > 50 PSI and TIRE WIDTH > 245 MM such as truck, vans and off-road vehicles. If a converter is needed, it's recommended to use converter in accordance with 120 W, 10 A specification for safety.If the air pump has been running for 10 minutes, you need to let the machine rest for 10 minutes before using it.