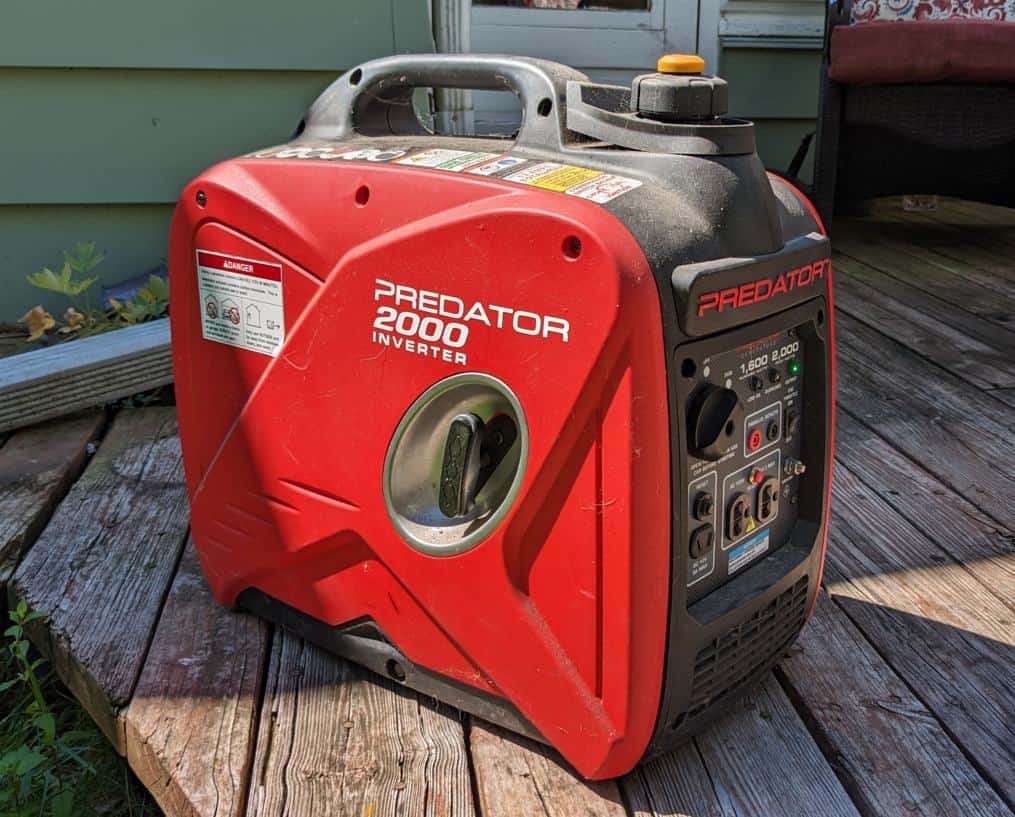 A reliable generator at your fingertips can be a lifesaver in dire situations. Do you know who makes the Predator generators, renowned for their impressive runtimes and high-impact durability? This blog post will offer an in-depth look into these powerful machines and how they stand up against other brands.
Key Takeaways
Predator generators are manufactured by Harbor Freight Tools, a US-based company known for its wide range of power tools and hardware products.
These generators are praised for their reliability, durability, efficiency, versatility, and affordability.
Customer feedback suggests that Predator generators consistently deliver power when needed and are reliable portable power solutions.
Overview of Predator Generators
Predator generators are known for their reliability, durability, efficiency, versatility, and affordability.
Reliability
Predator generators stand out due to their consistent performance under various conditions. They boast an impressive runtime of 6.5 hours at half load, showcasing the brand's commitment to reliability and steady power provision.
Their engines are recognized for durability, ensuring continuous service without frequent breakdowns or power interruptions. Predator generators deliver unwavering functionality even in critical situations or harsh environments, such as during a storm or while on an off-grid camping trip.
Furthermore, with noise levels peaking at only 52 dB, they operate quietly without compromising their reliable operation.
Durability
Predator Generators exhibit remarkable durability thanks to their high-impact housing. This robust construction guarantees the generator can withstand rugged environments and harsh weather conditions.
Users who employ these generators in challenging outdoor situations commend this feature.
Careful and responsible usage of the Predator Generator ensures a significantly elongated lifespan. The solid build not only resists physical damage but also ensures longevity of service for years to come.
Such enduring performance is a testament to the durability inherent in all Predator Generators.
Efficiency
Predator generators bring efficiency to the forefront. These power-packed machines run smoother and longer without drinking up your fuel reserves. Not only do they save on energy, but their low noise levels make them a perfect companion for outdoor activities or during storms.
The larger models even have eco-friendly features, embodying an admirable balance between performance and environmental care. This superb efficiency combined with quiet operation has won customer appreciation and high ratings in the generator market.
Versatility
Predator generators are praised for their versatility, making them suitable for various applications. Whether you need power on a camping trip, at a construction site, or during an emergency, Predator generators have got you covered.
With various models offering different power outputs and features, there is always a generator that can meet your specific needs. The dual-fuel technology found in the Predator 5000 allows you to switch between gasoline and propane, giving you flexibility and peace of mind.
No matter the situation, Predator generators are designed to deliver reliable power whenever and wherever it's needed.
Price
The price of Predator generators has recently increased by about $150. Despite this increase, Predator generators still offer lower prices than comparable Honda generators. In fact, Consumer Reports has found that Predator generators are comparable in performance to the more expensive Honda models.
One popular and well-regarded model is the Predator 3500 generator, known for its impressive performance and value. Another notable model is the Predator 4000 generator, praised for its portability and decent power output.
With their competitive prices and reliable performance, Predator generators provide an affordable option for those needing a portable power source.
Who Makes Predator Generators?
Harbor Freight Tools is responsible for manufacturing Predator Generators at various locations.
Harbor Freight Tools
Harbor Freight Tools, a US-based business, manufactures Predator Generators and Predator engines. They are known for their wide range of power tools and hardware products.
Predator generators are sold under Harbor Freight Tools' brand name. While other retailers may also sell Predator Generators, they are primarily manufactured for Harbor Freight Tools.
This ensures that customers can trust the quality and reliability of these generators, which have become popular due to their affordable price range and excellent performance.
Manufacturing locations
Harbor Freight Tools, which makes Predator generators, has manufacturing facilities in Calabasas, California. Some of the engine parts are made in China, and the final assembly of Predator generators also takes place in China.
Once fully assembled, these generators are then shipped to the USA for sale.
Reviews of Predator Generators
Customers have shared their feedback and experiences with Predator generators, comparing them to other generator brands.
Customer feedback and experiences
Customers who have used Predator generators have provided valuable feedback and shared their experiences with these portable powerhouses. Many users have praised the brand for its reliability and performance, highlighting how the generators have consistently delivered power when they needed it most.
One popular model, the Predator 3500 Inverter Generator (which you can get at Amazon or eBay), has received positive reviews for its impressive running power of 3000 Watts. People appreciate that these generators are powerful enough to handle various needs, whether powering tools on a job site or providing electricity during outdoor events.
Overall, customer feedback suggests that Predator generators are reliable for those needing portable power solutions.
Some Reddit users mentioned their positive experiences with Predator generators, sharing stories about how these machines performed exceptionally well during camping trips and emergencies.
Comparison with other generator brands
Honda is a well-known brand in the generator market. When comparing Honda to Predator generators, there are some notable differences. Regarding power delivery, Honda outperforms Predator with an excellent rating compared to Predator's very good rating.
Additionally, noise levels between the two brands have also been compared.
Final Verdict on Predator Generators
Predator Generators deliver reliable, durable, and efficient power at a competitive price, making them a top choice for homeowners and professionals.
Overall assessment of the brand and its products
Predator generators have earned a positive reputation for their high performance and affordable prices. These well-priced generators are known to be reliable, powerful, and efficient.
Customers have praised the new design of Predator generators, highlighting their durability and versatility. Predator stands out as a top contender when compared to other generator brands.
With their impressive customer feedback and experiences, it's clear that Predator generators are a solid choice for those needing portable power solutions.
Conclusion
Predator generators are produced by Harbor Freight Tools, and they have gained a strong reputation for being reliable, durable, and efficient machines. Their affordable price range and versatility offer great value to users looking for a portable generator.
While there may be some drawbacks, such as limited outlets, overall, Predator generators are considered to be high-quality products that can meet the power needs of various situations.
Bestseller No. 1
WEN 56235i Super Quiet 2350-Watt Portable Inverter Generator with Fuel Shut Off, CARB Compliant, Ultra Lightweight, Black
Ultralight body weighs in at a mere 39 pounds for easy transport and storage.Engine Speed : 4800 RPM. Lubrication System : Splash Lubrication.Rated Amperage: AC: 15.8A, DC: 8.3A (Cigarette Plug), 2.1A/1A (USB)
Extremely quiet operation comparable to the sound of a normal conversation according to the US Department of Health and Human Services
Produces 2350 surge watts and 1900 rated watts of clean power for safe charging of sensitive electronics (phones, tablets, televisions, computers, etc.)
Fuel shutoff maximizes the generator's lifespan by using up the remaining fuel in the carburetor before shutting down
Includes two three-prong 120V receptacles, one 12V DC receptacle, two 5V USB ports, and a two-year warranty
Sale
Bestseller No. 2
NEXPOW Portable Inverter Generator, 2250W Super Quiet Generator with CO Alarm Ideal,Eco-Mode Feature, Parallel Capability,EPA Compliant,and 5v/3A USB Outle,Lightweight For Backup Home Us& Camping
【CO Alarm and Parallel Function】 The NEXPOW portable inverter generator adopts a sensor CO alarm, If used in a confined environment, it reduces the risk of carbon monoxide poisoning for consumers. The generator also features AC parallel operation, allowing you to easily connect two generator units with the same voltage and frequency in parallel to increase power output.
【Eco Mode and EPA Certification】 The NEXPOW portable inverter generator has obtained EPA certification, ensuring safe and reliable use. It also includes an Eco mode feature that extends the runtime. By using the eco switch, the fuel tank can run for more than 10 hours at 25% load.
【Upgraded Configuration】NEXPOW inverter generator is used high-quality copper wire as the core material, which has excellent conductivity and high thermal conductivity,This 2250W portable inverter generator is equipped with 79.7cc 4-stroke OHV single-cylinder engine, a forced air cooling system, and overhead valves. It is also equipped with a muffler, fuel filter, air filter, and more. We have added more configurations than traditional generators, allowing you to use it with greater safety.
【Multipurpose Portable Inverter Generator】It produces 2250W of surge power and 1800W of rated power with an overload protection function. It is easy to run a small house lighting system or other appliances such as a refrigerator. You can rest assured to use it for outdoor living, RV travel, vacation, food trucks, and any situation that requires power.
【Super Quiet Mode】NEXPOW generator is equipped with an advanced muffler and adopts a fully enclosed design mode, which greatly reduces the noise when the product is running. Compared with other traditional generators, NEXPOW Generator is an ultra-quiet mode, at a distance of 23 feet, the decibel level of the product running in ECO mode is 58 decibels, which is almost equal to the sound of normal talking or a dishwasher running, there is virtually no disturbance to the user or anyone nearby.
Sale
Bestseller No. 3
Westinghouse Outdoor Power Equipment 4500 Peak Watt Super Quiet Dual Fuel Portable Inverter Generator, Remote Electric Start, Gas & Propane Powered, RV Ready, CO Sensor, Parallel Capable
4500 Peak Watts and 3700 Rated Watts at Less Than 3% THD – Telescoping Handle – Gas or Propane Powered – Remote Start With Included Key Fob, Electric and Recoil Start. Grounding System-Floating Neutral
Features a 5–20R 120V Duplex Household Outlet, an RV-Ready Tt-30R 30 Amp Outlet and Two USB Outlets – Great Choice for Travel Trailers or Home Use with Automatic Low Oil and Carbon Monoxide (CO) Shutdown – Strong Enough to Run All Your Essentials
Led Data Center: Rotating Digital Display Shows Fuel Level, Power Output, Remaining Run Time, Voltage Output, and Lifetime Hours
Extremely Quiet, Extremely Fuel Efficient: as Low as 52 dBA Noise Output and Up to 18 Hour Run Time on a 3. 4 Gallon Gas Tank – Features "Economy Mode" for Maximum Fuel Efficiency
All Westinghouse Portable Generators are Functionally Tested in the Factory and May Contain Minimum Residual Oil and/or Fuel Odor; EPA and CARB Compliant; Backed By 3-Year Limited Service, Labor, and Parts Coverage and Nationwide Customer Service Network