You'd be well advised to seriously consider the DuroMax XP12000DX if you're looking for a portable generator for your home or office. With 12,000 watts of power, this generator is more than capable of getting you through your next power outage or on-site job.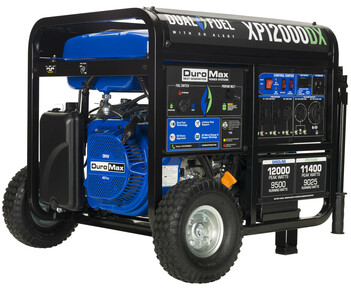 XP12000DX Features
Rocker switch electric start
Front-facing fuel interface lets you easily switch between fuels
120V and 240V output
Wide range of outlets

Four 120V GFCI household outlets
One 120V 30AMP outlet
One 120/240V 30AMP twist-lock outlet
Heavy-duty 120/240V 50AMP transfer switch outlet

Automatic Low Oil Shutdown
CO Sensor Shutdown
Three year warranty
Easy access grounding terminal (see our article "how to ground a generator").
Dual fuel technology, choose between gasoline or propane
Dual Fuel Capability
A dual fuel gasoline generator is an excellent purchase for anybody looking to be ready in case of a power outage or other catastrophe. This portable generator can run on either gasoline or propane, allowing you to choose whichever one is more readily available.
Propane has several key advantages over gasoline. First and foremost, propane is a much cleaner fuel source than gasoline. Because it contains fewer impurities and produces fewer byproducts during combustion, propane significantly reduces toxic emissions. This makes it much safer for the environment overall.
In addition, propane generators are less prone to the issues caused by cold weather that can impact the performance of gasoline units. And propane has an indefinite shelf-life, unlike gasoline, which requires special additives for storage and even then doesn't keep for more than a year or two. This means that long term fuel storage is much easier with propane.
Dual fuel propane generators are a great choice for anyone who wants the peace of mind that comes with knowing they have a more versatile backup power source.
Click the following link to learn more about the pros and cons of propane vs gas generators.
XP12000DX Specs
9 hour runtime at 50% Load (gasoline)
7 hour runtime at 50% Load (propane)
457cc engine

Forced air cooling
Overhead Valves
Cast Iron Sleeve
Stainless Steel Ball Bearings

Peak Wattage: 12,000 watts gasoline / 11,400 watts propane
Running Wattage: 9,500 watts gasoline / 9,025 watts propane
Weight: 235 lbs
Volume (db): 74 dB
EPA Certified
CARB Certified
Concluding Remarks for the Duromax XP12000DX
Designed and built for durability and ease of maintenance by one of the world's best known generator manufacturers, Duromax generators are reliable and easy to own and operate.
If you're looking for a powerful portable generator, the DuroMax XP12000DX is hard to beat . It's 12,000 watts of power and wide range of power outlets make this unit easily able to run your home during a blackout or other emergency. It also has dual fuel gas propane capability, allowing you to choose between gasoline and propane depending on what's available. With its wide range of features, the DuroMax XP12000DX will have you covered in a variety of situations.
However, you can also check out the entire line of 12,000 Watt Duromax Generators on our blog, including the Duromax XP12000EH, Duromax XP12000HX and even our Duromax XP12000HX vs Duromax XP12000EH post for a quick comparison of the two models.
Find the best price for the Duromax XP12000DX and get it delivered quickly from Amazon, or eBay!