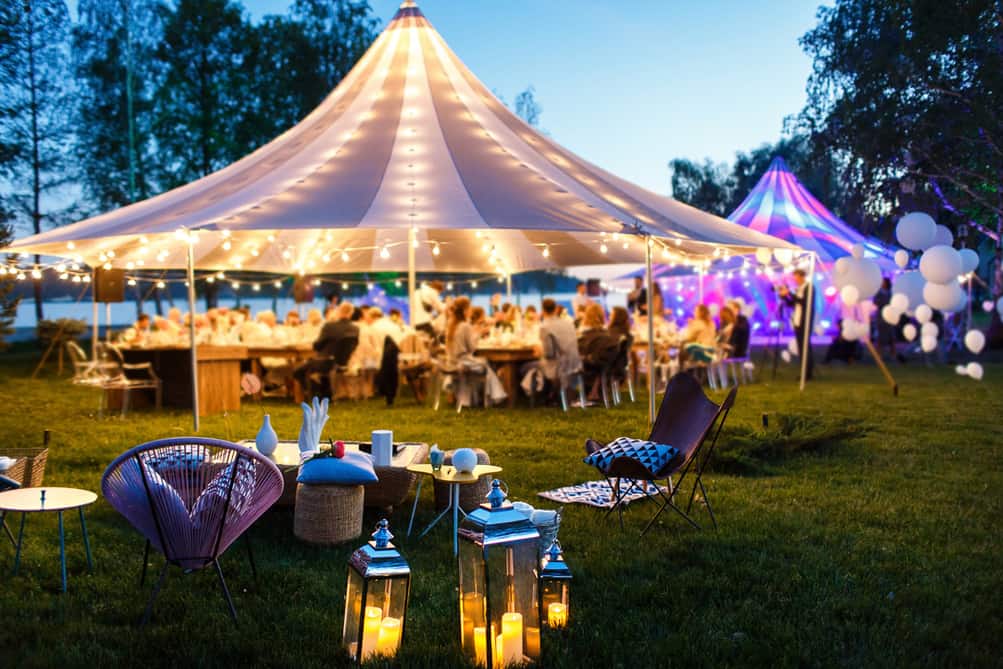 Whether it's a backyard barbecue or a large music festival, outdoor events often require reliable and versatile power solutions to keep things running smoothly.
Enter portable generators – these compact yet powerful units offer convenience without breaking the bank. This blog post will explain why using a portable generator for outdoor events is a good idea.
Takeaways
Portable generators are essential for outdoor events, providing a reliable and flexible power source that eliminates the need for expensive electrical installations.
Consider capacity, fuel type, noise levels, and safety features when choosing a generator to ensure efficient and safe operation.
Using a portable generator is cost-effective and convenient compared to installing permanent power systems or continuously buying backup batteries/solar panels.
When using your generator outdoors, follow proper safety guidelines to prevent carbon monoxide poisoning, overloading hazards, and fire risks caused by overheating devices connected to the unit.
Key Considerations When Choosing A Portable Generator
When choosing a portable generator for outdoor events, key considerations include power output and capacity to meet your needs, fuel type and efficiency to minimize running costs, and noise levels and safety features to ensure safe operation.
Power Output And Capacity
One of the most significant factors to consider when selecting a portable generator for your outdoor event is the power output and capacity. Knowing how much electricity you need will dictate the size and type of generator that can effectively supply power to all your appliances and devices, ensuring a seamless experience for you and your guests.
On the other hand, larger events such as festivals or weddings may require more substantial generators capable of producing anywhere from 5000-10,000 watts or higher. These powerful units can simultaneously accommodate multiple pieces of high-wattage equipment—such as sound systems, stage lighting rigs, and refrigerators for catering services—and keep everything running smoothly throughout the occasion.
Calculate the total wattage needed by adding up all individual electrical components' ratings at your event to determine which kind of generator fits best within your requirements and budget constraints.
Fuel Type And Efficiency
Selecting the right fuel type for your portable generator ensures the most efficient operation during your outdoor event. The three primary fuel options include gasoline, diesel, and propane.
Diesel generators boast longer runtimes and better fuel efficiency than their gasoline-powered counterparts. Although they tend to be more expensive upfront, diesel models offer lower long-term operating costs with their durability and reliability – ideal for bigger events demanding a consistent power supply.
Propane generators provide an eco-friendly option that produces fewer pollutants and is quieter than gasoline and diesel versions.
When comparing fuel efficiency among different portable generator models, take note of each generator's runtime per tank capacity.
Noise Levels And Safety
Noise levels and safety are crucial factors to consider when selecting a portable generator for outdoor events. High noise levels can disrupt conversations, disturb the event's ambiance, and cause discomfort for attendees.
Most modern generators, especially inverter generators, feature quiet operation technology, which helps keep noise levels low during use.
Safety should never be overlooked while operating a portable generator. One significant concern is carbon monoxide (CO) emissions from gas-powered units. To minimize the risk of CO poisoning, it's essential to position the generator at least 25 feet away from any doors, windows, or vents leading inside buildings or tents.
Ventilation is vital; ample airflow around the unit will help dissipate toxic fumes and reduce fire risks caused by overheating devices connected to the generator. Additionally, an adequate extension cord rated for outdoor use ensures efficient power distribution without overloading circuits or causing tripping hazards due to tangled cords on walkways or common areas throughout your event space.
Benefits Of Using A Portable Generator For Outdoor Events
Using a portable generator for outdoor activities provides a reliable and flexible power source, is cost-effective and convenient, and is versatile in various outdoor locations.
Reliable And Flexible Power Source
A portable generator is a reliable and flexible power source for event power. Whether you are hosting a backyard barbecue or an outdoor festival, a generator can provide power to run lighting, sound systems, and other equipment.
Portable generators are convenient during power outages when they can supply backup power to keep essential appliances running.
One of the advantages of using portable generators is that they eliminate the need for expensive electrical installations at outdoor locations. They also offer flexibility regarding location since they can be moved easily from one place to another without requiring elaborate setup procedures.
Cost-Effective And Convenient
Using a portable generator for outdoor events is not only practical but also cost-effective and convenient.
For instance, let's say you are hosting an outdoor event with several appliances, such as a small refrigerator, grill, and coffee maker – all of which require electricity.
Renting or owning a portable generator can provide enough wattage to run these appliances simultaneously.
In addition, depending on what type of fuel the generator needs (gasoline, diesel), refueling may be less expensive than continuously buying backup batteries or solar power panels when they deplete over time.
Versatile In Outdoor Locations
A portable generator is an ideal power source for outdoor events as you can use it in various locations. Whether hosting a backyard barbecue or camping in the wilderness, a generator can provide reliable and convenient power to your appliances and equipment.
One advantage of using a portable generator is that it eliminates the need for electrical outlets, making it perfect for outdoor gatherings like festivals and events.
Some models are designed specifically for off-grid use, providing renewable energy with solar panels or wind turbines. This makes them especially useful during emergencies or natural disasters when traditional power sources may fail.
Safety Tips For Using A Portable Generator Outdoors
Safety should always be the top priority when using a portable generator for outdoor events. Here are some tips to keep in mind:
Always read and follow the manufacturer's instructions before using your generator.
Place the generator on a dry, level surface, preferably concrete or asphalt.
Keep the generator at least 20 feet from any building or structure to prevent carbon monoxide buildup.
Use heavy-duty extension cords that are rated for outdoor use and can handle the wattage of your appliances.
Never operate a generator indoors or in enclosed spaces like a garage or basement. This can lead to carbon monoxide poisoning.
Only use your generator to power essential equipment and appliances. Overloading it can cause severe damage and pose a safety hazard.
Turn off the generator and allow it to cool down before refueling. Gasoline and diesel fuel are highly explosive and can ignite if they come into contact with hot engine parts.
Regularly inspect your generator for signs of wear and tear, such as frayed cords or leaking fuel tanks. If you notice any issues, have them repaired by a qualified technician.
By following these safety tips, you can ensure that your portable generator provides reliable power without putting anyone at risk.
Conclusion
Using a portable generator for outdoor events is crucial to ensuring that power needs are met, and guests are comfortable. When choosing a generator, key considerations include capacity, fuel type, and noise levels.
Portable generators offer many benefits, such as versatility in location and ease of use. However, safety should always be prioritized when using these devices.
Sale
Bestseller No. 1
NEXPOW Portable Inverter Generator, 2250W Super Quiet Generator with CO Alarm Ideal,Eco-Mode Feature, Parallel Capability,EPA Compliant,and 5v/3A USB Outle,Lightweight For Backup Home Us& Camping
【CO Alarm and Parallel Function】 The NEXPOW portable inverter generator adopts a sensor CO alarm, If used in a confined environment, it reduces the risk of carbon monoxide poisoning for consumers. The generator also features AC parallel operation, allowing you to easily connect two generator units with the same voltage and frequency in parallel to increase power output.
【Eco Mode and EPA Certification】 The NEXPOW portable inverter generator has obtained EPA certification, ensuring safe and reliable use. It also includes an Eco mode feature that extends the runtime. By using the eco switch, the fuel tank can run for more than 10 hours at 25% load.
【Upgraded Configuration】NEXPOW inverter generator is used high-quality copper wire as the core material, which has excellent conductivity and high thermal conductivity,This 2250W portable inverter generator is equipped with 79.7cc 4-stroke OHV single-cylinder engine, a forced air cooling system, and overhead valves. It is also equipped with a muffler, fuel filter, air filter, and more. We have added more configurations than traditional generators, allowing you to use it with greater safety.
【Multipurpose Portable Inverter Generator】It produces 2250W of surge power and 1800W of rated power with an overload protection function. It is easy to run a small house lighting system or other appliances such as a refrigerator. You can rest assured to use it for outdoor living, RV travel, vacation, food trucks, and any situation that requires power.
【Super Quiet Mode】NEXPOW generator is equipped with an advanced muffler and adopts a fully enclosed design mode, which greatly reduces the noise when the product is running. Compared with other traditional generators, NEXPOW Generator is an ultra-quiet mode, at a distance of 23 feet, the decibel level of the product running in ECO mode is 58 decibels, which is almost equal to the sound of normal talking or a dishwasher running, there is virtually no disturbance to the user or anyone nearby.
Bestseller No. 2
Westinghouse Outdoor Power Equipment 12500 Peak Watt Tri-Fuel Home Backup Portable Generator, Remote Electric Start, Transfer Switch Ready, Gas, Propane, and Natural Gas Powered, CARB Compliant,Blue
12500 Peak Watts, 9500 Running Watts (Gasoline); 11200 Peak Watts, 8500 Running Watts (Propane); 9500 Peak Watts, 7500 Running Watts (Natural Gas); Remote Start With Included Key Fob, Electric and Recoil Start; Up to 12 Hours of Run Time on a 6. 6 Gallon Fuel Tank With Fuel Gauge.Rated Speed (RPM) : 3600. THD : ≤ 23%
Features Two GFCI 120V 5–20R Standard Household Receptacle, One Transfer Switch Ready 120V L14-30R, and One RV Ready 120/240V 14–50R; All Outlets Have Rubber Covers for Added Safety
Powered by a Heavy Duty 457cc Westinghouse 4-Stroke OHV Engine Featuring a Long-Lasting Cast Iron Sleeve With Automatic Low Oil and Carbon Monoxide (CO) Shutdown, and Digital Hour Meter
Plug-and-Play: Comes With a Remote Start Key Fob, 12V Battery Charger, Oil, and Oil Funnel, a Tool Kit, and a User's Manual to Get You Started Right Out of the Box (Minimal Assembly Required)
All Westinghouse Portable Generators are Functionally Tested in the Factory and May Contain Minimum Residual Oil and/or Fuel smell; EPA and CARB Compliant; Backed By 3-Year Limited Service, Labor, and Parts Coverage and Nationwide Customer Service Network
Sale
Bestseller No. 3
PowerSmart 2500-Watt Portable Gas Inverter Generator, Super Quiet, High Fuel-Efficient Generator, Lightweight, CARB Compliant PS5025
Compact and Portable: Portable generator weighing just 39 pounds and featuring a compact design (19" L x 13" W x 20" H), this generator is incredibly easy to transport and store. Its built-in handle and small footprint make it a hassle-free companion for your outdoor escapades.
Whisper-Quiet Operation: Our quiet generator equipped with ECO-mode technology, our generator operates at a noise level as low as 56 dBA. Enjoy the serenity of nature without the disruptive noise of traditional generators, making it ideal for camping trips and quiet neighborhood environments.
Versatile Outputs: The gas generator provides a variety of output options to meet your needs. It includes two 120V 15.8amp household outlets for standard appliances, one 12V DC outlet for automotive accessories, and two 5V USB ports for charging your smartphones, tablets, and other gadgets.
Expandable Power: This generator is parallel-capable, allowing you to connect another 2500-watt PowerSmart inverter generator for double the power output (equivalent to a 30amp, 4000W generator). Perfect for RV enthusiasts and those with higher power requirements.
Environmentally Friendly: This generator is EPA certified and CARB compliant, meeting strict emissions standards. You can use it with confidence, knowing you're using an eco-friendly power solution, even in California.
Bestseller No. 4
BILT HARD Generator 2500 Watt, Quiet Inverter Generator Portable 80cc 4 Stroke Engine, 120V AC Duplex Receptacle and 12V DC Output, Outdoor Generators for Home Backup Use and RV Ready
Pure Sine Wave Inverter – Less than 2.5% THD. Covered 120V Max20A 60HZ AC outlets (NEMA 5-20) and 12V Max8.3A DC output are protected by circuit breakers.
Gas Generator – 80cc 4-stroke air-cooled OHV gasoline engine. 1.37 gal fuel tank allows 13 hours run time @25% load. 4800 rpm max engine speed and 9.1:1 compression ratio.
Quiet and Fuel Efficient – As low as 65 dB with double-insulated acoustic enclosure, asymmetrical cooling fans, automatic RPM control and low tone mufflers to reduce operating noise.
2500 Peak Watts and 2000 Running Watts – Perfect for running sensitive electronics like LCD/plasma televisions, laptops, tablets, or mobile devices that require clean, stable power.
Parallel Ready – Connect two inverter generators using a parallel kit (not included) to double your power output.