Duromax XP10000DX Dual Fuel Portable Generator
The Duromax XP10000DX dual fuel 10000-watt portable generator is a solid backup power option for your home or RV during an emergency. You'll always have power with its dual fuel capability: you can run it on gasoline or propane, whichever is available. And its five-year warranty gives confidence that it will work when needed.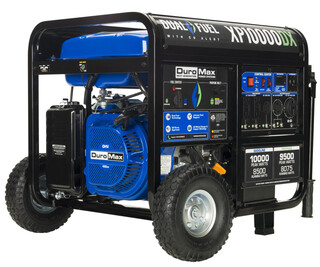 XP10000DX Features
Rocker switch electric start
120V and 240V output
Wide range of outlets

Four 120V GFCI household outlets
One 120V 30AMP twist-lock outlet
One 120/240V 30AMP twist-lock outlet
Heavy-duty 120/240V 50AMP outlet for transfer switch connection

Automatic Low Oil Shutdown
CO Sensor Shutdown
Easy access grounding terminal.
Dual Fuel Capability
A propane-fueled gasoline generator is an excellent investment for anybody looking to be prepared in case of a power outage or other catastrophe. You may use this portable generator with either gasoline or propane, allowing you to select whichever one you have.
Propane is a much cleaner fuel than gasoline because of its lower emissions and fewer impurities. Because it has fewer contaminants and by-products when combusted, propane combustion generates a lower volume of harmful pollutants. As a result, it has a considerably lower environmental impact than gasoline.
In addition, propane generators are less prone to the issues caused by cold weather that can impact the performance of gasoline units. And propane has an indefinite shelf-life, unlike gasoline, which requires special additives for storage and even then doesn't keep for more than a year or two. This means that long-term fuel storage is much easier with propane.
Dual-fuel propane generators are an excellent choice for anyone who wants the peace of mind that comes with knowing they have a more versatile backup power source.
See our article about propane vs. gas generators to learn more about the pros and cons.
XP10000DX Specs
10-hour runtime at 50% Load (gasoline)
9-hour runtime at 50% Load (propane)
420cc engine

Forced air cooling
Overhead Valves
Cast Iron Sleeve
Stainless Steel Ball Bearings

Peak Wattage: 10,000 watts gasoline/ 9,500 watts propane
Running Wattage: 8,500 watts gasoline/7,600 watts propane
Weight: 230 lbs
Volume (DB): 72 dB
EPA Certified
CARB Certified
Conclusion (Duromax XP10000DX)
Duromax generators are designed and made by one of the world's largest generator manufacturers, so you can be confident that you're buying a quality product that will be durable and reliable.
The Duromax XP10000DX is a good choice for emergency power needs. With its dual fuel capability and easy starting, it will be on the job when needed.
Find it on Amazon! And check out eBay while you're at it.
Other options for 10,000-watt generators include the Duromax XP10000HX and the Duromax XP10000EH (both dual fuel), and the gasoline-only Duromax XP10000E.
Sale
DuroMax XP10000DX 10,000-Watt/8,500-Watt 420cc Electric Start Dual Fuel Portable Generator w/CO Alert, Black/Blue
Powerful Performance: The XP10000DX Dual Fuel generator offers an impressive 10,000 watts of power, ensuring your entire home remains operational during storms or power outages. It also features CO Alert technology to protect your family from harmful fumes.
Industry-Leading Dual Fuel Technology: DuroMax leads the way in Dual Fuel portable generator technology, providing a comprehensive range of products from digital inverters to generators capable of powering your entire home.
Robust DuroMax Engine: At the heart of all DuroMax products lies a robust engine, thoughtfully designed for exceptional performance and long-lasting durability.
User-Friendly Features: The XP10000DX comes with a convenient front-facing interface, enabling you to switch between fuel types in seconds. It also includes a digital multimeter and a wide variety of outlets, including a transfer switch-ready 50 amp outlet.
Sturdy Construction: Crafted with a heavy-duty all-metal frame and power panel, the XP10000DX boasts a resilient design without any plastic parts.